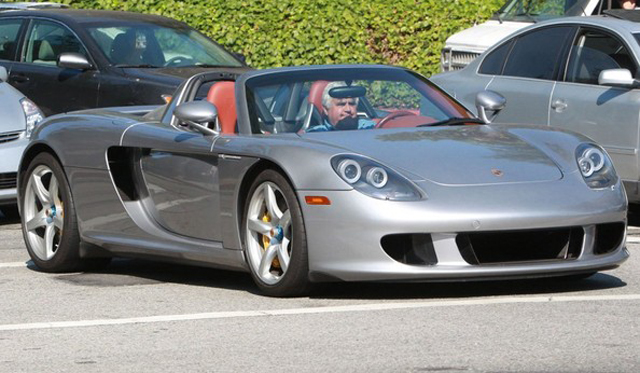 As we all know, American talkshow host Jay Leno is an extremely avid automotive enthusiast with the multi-millionaire owning an exotic car garage which would make any supercar enthusiast jealous.
On top of his selection of Lamborghini's and other supercars, Jay Leno also owns a silver Porsche Carrera GT and the man himself was recently spotted driving his Porsche 911 Carrera GT around Los Angeles.
Under the hood, the 2004 Porsche Carrera GT is powered by a 5.7-liter V10 engine that produces a still extremely impressive 612hp and 435lb-ft of torque. All this power is then sent through the rear wheels via a traditional manual transmission and consequently, the Porsche Carrera GT can sprint to 62mph in just 3.9 seconds and onto a top speed of 205mph.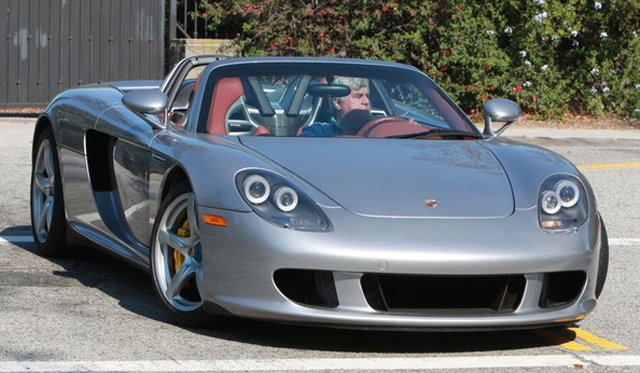 Almost exactly one decade after the Porsche Carrera GT went into mass production, it's soon to replaced by the 2014 Porsche 918 Spyder. The Porsche will be powered by a 4.6 liter V8 engine producing 608hp and directly derived from the power unit of the previous RS successful. The engine features dry-sump lubrication with a separate oil tank and oil extraction. The air filter box and the air induction are all made of carbon fiber reinforced polymer to save on the weight not to mention the titanium connecting rods.
Other lightweight saving measures include the thin-wall, low-pressure casting on the crank case and the cylinder heads, a high-strength, lightweight steel crankshaft with 180 degrees crankpin offset and the extremely thin-walled alloy steel/nickel exhaust system.