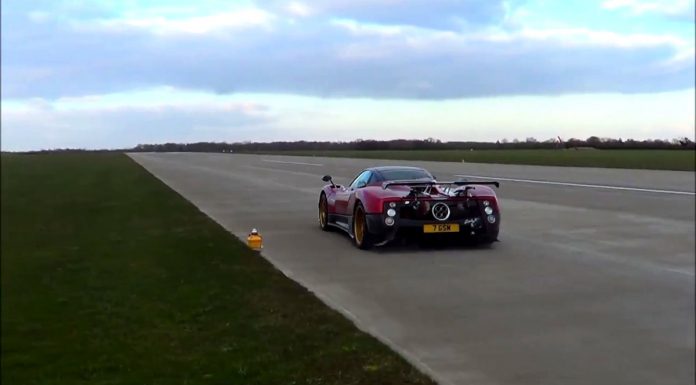 When it comes to loud supercars, the Pagani Zonda could easily stand as the loudest of them all. This is evident from the various videos we have showed you before and we are about to show you another one. This one is from the guys over at Supercar Driver. They filmed this Pagani Zonda F fitted with Cinque upgrades on an empty runaway doing flybys. The car is as loud as one could imagine and the acceleration is just exotic!
For the sake of those who are wondering what we mean by these "Cinque Upgrades", we shall explain in a jiffy. But first a short recap of the Zonda F. It has been named the most extensive engineered Zonda and came shortly after the Zonda S Roadster. This was in 2005, same 7.3 V12 AMG engine only that this time it was tuned to produce more power, 594hp compared to the 547hp of the Zonda S. Only 25 were made.
The Cinque Upgrades here arise from updates given to its immediate successor, the Pagani Zonda Cinque. We cannot see the interior but cinque inner upgrades included a 6-speed sequential gearbox and power rising to 669hp. Exterior changes includes the carbon-titanium which would later be used in the Huayra and the extended front splitter, Side skirts and rear diffusers were part of the upgrades, this one lacks the roof intake scoop which is on the Cinque.