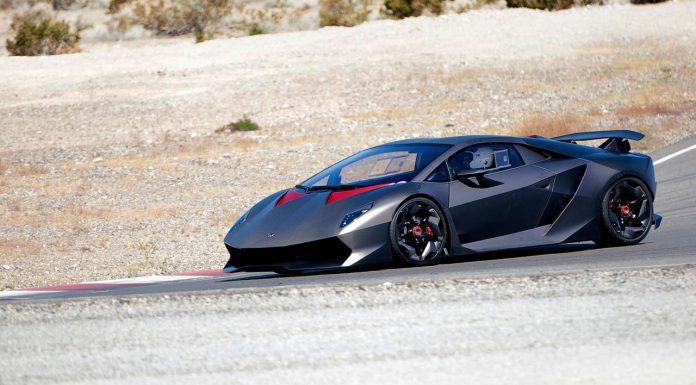 Ever since it was first announced that the Lamborghini Sesto Elemento was hitting production in extremely limited numbers, Lamborghini has remained extremely tight-lipped about where the cars are being delivered and has yet to even release official images of the production-spec car. This is despite the fact that production of the Lamborghini Sesto Elemento began at the start of this year.
It's believed that all 20 units of the Lamborghini Sesto Elemento cost around $2.2 million, but there are conflicting reports about whether or not all 20 vehicles have been accounted for and purchased by customers. Nevertheless, new images have just emerged from a secret VIP event Lamborghini recently held at a Las Vegas raceway where what seems to be the production-ready Lamborghini Sesto Elemento hit the track for the very first time.
As you may recall a few weeks back, the first spy shot of what's believed to be the first production ready Lamborghini Sesto Elemento was released online. That car featured a revised rear diffuser, a German number plate and redesigned carbon fiber wheels and the following Sesto Elemento in these picture is wearing those same wheels suggesting that they are indeed the wheels found on all customer Lamborghini Sesto Elemento's.
Furthermore, the Lamborghini Sesto Elemento in the above image features the same race style perspex as the previous German one did.