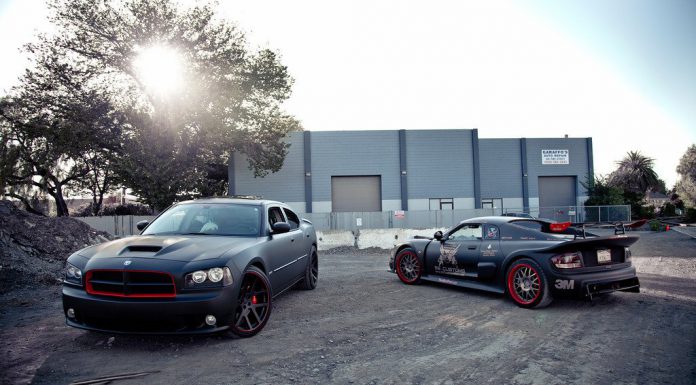 This is a photoshoot of a Dodge Charger vs. Noble M400 done by SS Customs, the Redwood City based tuner. Both cars carry a similar theme in the body and that's of a matte grey shade, differences appearing on the wheels and livery used. SS Customs showed us the Charcoal Grey Porsche 997 GT3 RS that we featured on a while ago.
This photoshoot merges an American car and a British car all which are well known to us. The Didge Charger sports basically two colors and that is dark and red. The red is used to accent various points such as the lips on the wheels, the brake calipers and the front grille trimming not to mention the artwork. Just but a reminder, the Dodge Charger comes in various options ranging from a 2.7 liter V6 rated at 178hp to a 6.1 liter Hemi V8 rated at 425hp.
The British owned Noble M400 in the photoshoot seems to have the most on its sportish body. SS Customs logo on the 3M wrapped body. The artwork extends to the windshields and on the sport rear wing that carries grey and red schemes to complement the wheels and body. Likewise, the wheels have a red thin lip around them.
The Noble M400 was manufactured in South Africa and precedes the M600. It has a V6 3.0 liter engine sourced from a Ford Mondeo but with enhancements such as forged pistons. It's fed by two turbochargers giving it an equal amount of power as the Charger SRT-8 of 425bhp. A 0-97km/h is achievable in 3.2 seconds.