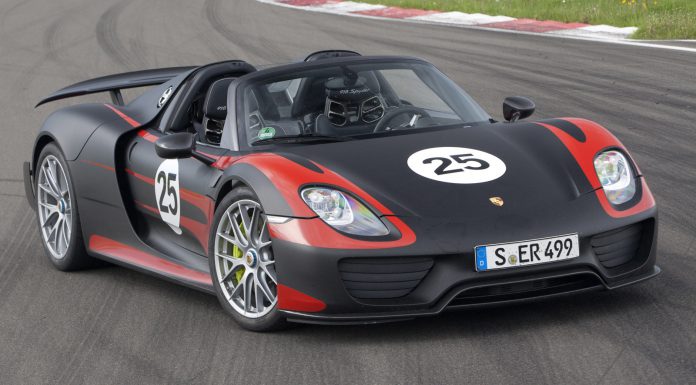 Porsche has confirmed that the United States is set to become the biggest market for the upcoming 2014 Porsche 918 Spyder hybrid supercar.
Production of the 2014 Porsche 918 Spyder is set to begin in the coming months, and thanks to Porsche's numerous promotional events held in the United States over the past two years, its believed that up to 190 copies of the 2014 Porsche 918 Spyder will call the U.S. home. As a reminder, just 918 units of the Porsche 918 Spyder are pinned for production.
In recent times, Porsche has held events promoting the 2014 Porsche 918 Spyder in Dallas, Las Vegas, Alabama, California and New York with each and every 918 Spyder to start at a base price of $845,000. What's more, each potential customer is forced to put down a $200,000 deposit.
Due to the limited number of Porsche 918 Spyder's being produced, only select Porsche dealerships in the United States will be permitted to stock the high-performance German supercar with only those that have deposit-paying customers set to stock them.
While the 2014 Porsche 918 Spyder is still yet to be sold out, Porsche predicts that its recent release of the revised specifications for the car should increase buyer interest.
These latest figures reveal that the 2014 Porsche 918 Spyder comes with a 4.6-liter V8 engine with two electric motors producing 887hp and over 920lb-ft of torque. As a result, the car can hit 62mph in just 2.8 seconds and a top speed of over 210mph!
[Via Auto News]