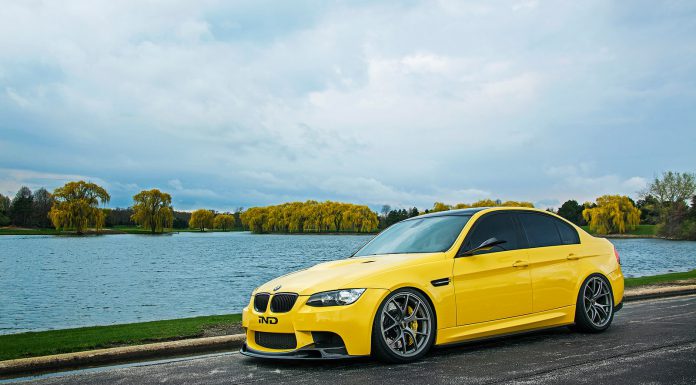 This is a Dakar Yellow BMW E90 M3 that recently attended the Bimmerfest 2013 which was held on May 14. The car was a project done by IND for a customer named Felix who according to IND has managed to set up one of the meanest M3s in the United States.
The project started when IND received the car into their facility, they added original carbon fiber mirrors from the BMW Motorsport program before fitting it with a Varis diffuser and IND E90 M3 carbon roof. The exterior was not yet done with as they equipped it with a Vorsteiner GTS-V front lip and a rear diffuser from 3D Design. The car was then set to roll on BBS FI wheels featuring Brembo brakes.
The next part was the painting; this was after fitting it with the various aforementioned parts. The Dakar yellow is definitely uncompromised for, the fasteners on the diffuser received gloss black paint alongside the hose clamps in the engine bay and the speaker surrounds. The engine bay was treated to Carbon Fiber strut bars by Dinan, textured black powdercoated valve covers, Dakar yellow ignition coil covers, and painted ESS supercharger and diverter valve.
As for the ESS intake manifold, the tuners painted it with Lamborghini's Grigio Estoque paint. The interior also ate much of the project's time, considering that the BMW Performance seats were removed and re-stitched with Dakar yellow thread, the BMW Performance logo was mapped on the headrest. As for the seat backs, a high gloss black with yellow flake theme was painted across.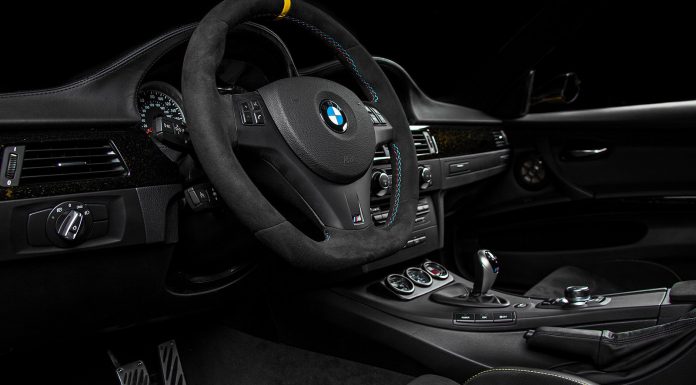 As you can see from the interior photos, the dash is quite exhilarating, thanks to the black leather mounted on it. The door panels received alcantara fabric but the lower half retained the original BMW leather. There is a roll-cage installed to ensure that the car is safe for track action, it was fitted by Fall Line Motorsports.
Moving to the rear of the car, IND has it all inspired by the M3 GTS, they also obtained a genuine M3 GTS center arm rest that was fitted in this M3. And that was it, and if you happened to check out our gallery from Bimmerfest, this M3 was rocking tight, undoubtedly one of the best builds out there!