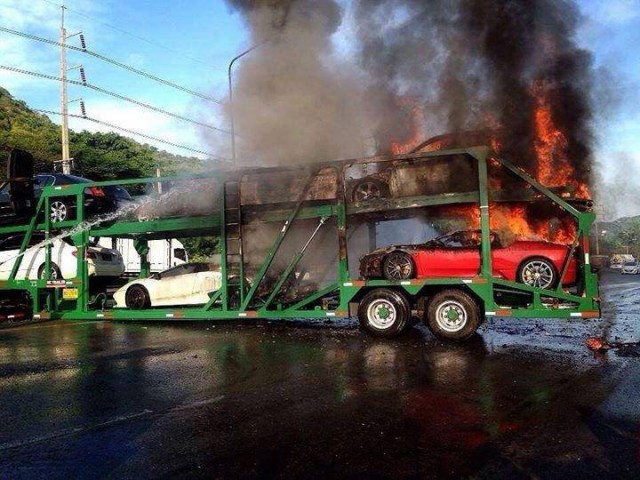 Residents of the Nakhon Ratchasima Province in Thailand woke up to a rude shock after a fleet of luxury cars being transported on a truck caught fire. The photos show that the fire consumed several of the cars on board. The cause of the fire is unknown but the damage is estimated at 100 million bahts which is approximately $3,313,450.
From the photos we can make out the shape of a Ferrari F430 (possibly a Scuderia), what looks like a BMW X6 M, a Lamborghini Murcielago LP640 and a couple of Bentley Continental Flying Spur's. Information from the fire is still pending but we will be happy to tell you more about it soon as quality reports emerge. In any case, you can also tip us if you happen to come across more information!
For now, check out the few photos and video available. It is certainly a bizarre accident. The Ferrari seems to be spewing flames from the rear, as does the Lamborghini.
http://youtu.be/ceN5NrUcdeA