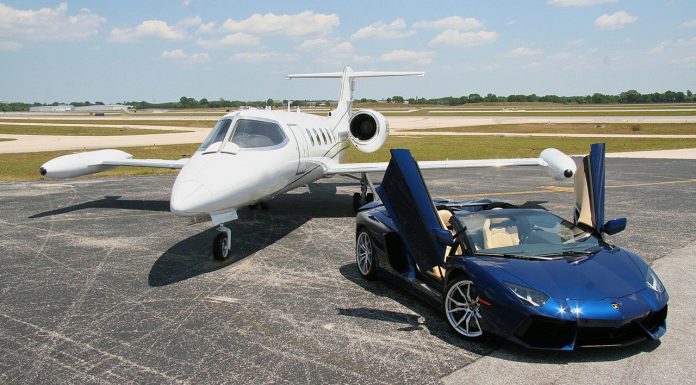 The Lamborghini Aventador LP700-4 Roadster made its public debut at the Los Angeles Motor Show 2012. The car would then go through a series of public appearances with the most notable one being the 50th Anniversary celebrations in Miami where which involved a huge 50-vehicle parade down Collins Drive in South Beach. Twelve of these cars were the Lamborghini Aventador LP700-4 Roadsters.
In that regard, 16-year old photographer Alex Pepe has spotted a Lamborghini Aventador LP700-4 Roadster unique in that it was the second Aventador Roadster to arrive in the US. He spotted in Florida at Lamborghini Sarasota, a luxury car dealer in Florida. In his photoshoot, Alex managed to capture several shots of the Aventador Roadster alongside a white 1981 Learjet 35A.
Just a recap, the roof of this roadster features a removable, two-piece carbon fiber system. The choice for a removable hard top is two-fold. It allows for a streamlined manufacturing process, as the rear section of the Roadster is quite identical to that of the standard car. The two parts are removable and simple to attach. They can be stored in the front luggage compartment.
The car is powered by a 6.5 liter aspirated V12 generating 700hp, an ISR seven-speed gearbox and push-rod suspension. It accelerates from 0 to 100km/h in only three seconds flat and has a maximum speed of some 350km/h. These figures are all similar to the coupe.
Don't forget to visit Pepe's Instagram page: AlexPepePhotography