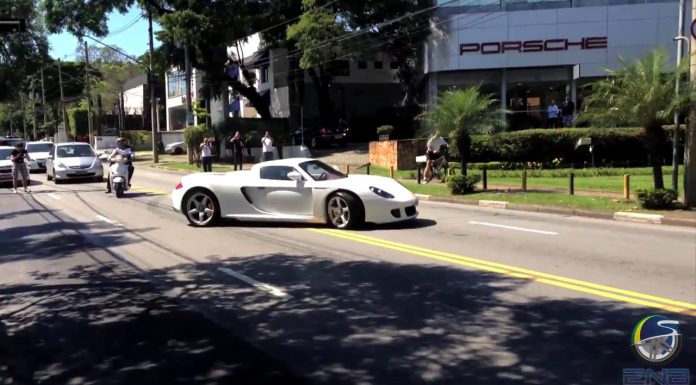 You may remember a video we showed you of Illicit Supercar Action on the streets of Brasil, well, the action continues this time with a Porsche Carrera GT. For those who have experienced the wrath of the Porsche Carrera GT up close, you are aware that this car could scream loud enough to put you into temporary deafness!
In this video from the same group (Exclusivos no Brasil) who showed us the Ferrari Day and Brasil Supercar Collection, we now see a white Porsche Carrera GT drifting on the streets with other cars present on a mild traffic build up. The car is loud and wild doing all sorts of things that cars of its DNA like to do when let loose.
Just a recap, the Porsche Carrera GT is powered by a 5.7 liter V10 engine good for a 612hp and a naught to 100km/h time of 3.9 seconds. The top speed is 330km/h. At the time of production the 1,270 cars made cost $448,000, this price may be higher today depending on the dealer or seller.