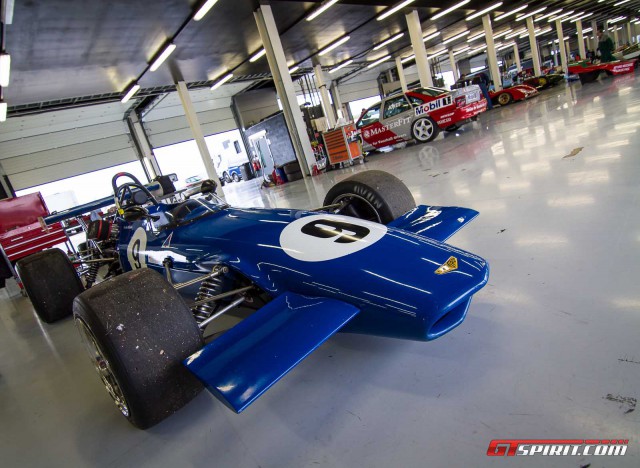 The Silverstone Classic Media day was held May 8th 2013 in preparation of the event held over three days on 26,27 and 28th July. The event which includes the AA Grand tour, various car clubs, Silverstone Auctions, aerial displays, Live Music and the various race grids.
This year's event is looking to be another record breaker, with twenty four races hosting eight decades of Motorsport history. Silverstone Classic will also be celebrating 100 years of Aston Martin, 50 years of the Porsche 911, 50 years of Lamborghini and 60 years of the Chevrolet Corvette. The Media day had a nice display of Corvettes both new and old. Though-out the event there will be a number of car club parades including Porsche who are hoping to have 911 Porsche 911's on track to mark the 50 year celebration. Currently more than 800 have already signed up to take part in this iconic parade which is being organised by Porsche Club GB. Saturday 27th will see a parade of 100 Aston Martins with over 250 members of the Aston Martins Owners Club displaying their vehicles on the Silverstone Infield. Lamborghini will also display and parade more than 100 cars.
Silverstone will host at least twenty four races with predictions of more cars entered, in comparison to 2011 when 1104 cars were entered. The New Silverstone Wing complex will home many of the fine cars which will be competing.
David Coulthard made an appearance on the media day where he hit the track in Jim Clark's Lotus. He was also part of the media parade laps, where members of the media could be driven around the circuit in a piece of history. These included Porsche 911, Old BTCC cars, Lister Storm and Lamborghini to name a few.
The category of races we have listed below and there is bound to be something that takes your fancy.
Formula1, Grand Prix and Single Seater Cars
• Grand Prix Masters F1 (1966 to 1985)
• Historic Grand Prix Cars Association (HGPCA) Pre 1961 Front Engine Grand Prix Cars
• Historic Grand Prix Cars Association (HGPCA) Pre 1966 Rear Engine Grand Prix Cars
• Historic Formula Junior (pre 1964)
• Formula 2 versus Formula 5000 (pre 1981)
• Historic Formula Ford
Sports Cars
• Group C Endurance prototypes
• Historic Sportscar Masters (Le Mans style sportscars up to 1974)
• Stirling Moss Trophy for pre 1961 sportscars
• Royal Automobile Trophy for pre 1956 sportscars
GT Cars
• The Piper Heidsieck International Trophy for pre 1966 GT cars, in association with Chopard
• Royal Automobile Club Tourist Trophy for Historic GT cars pre 1963
Touring Cars
• The Super Touring Car Trophy (1975-2000)
• Under 2 litre Touring Cars (U2TC)
• Pre 1966 Trans-Atlantic Touring Car Trophy