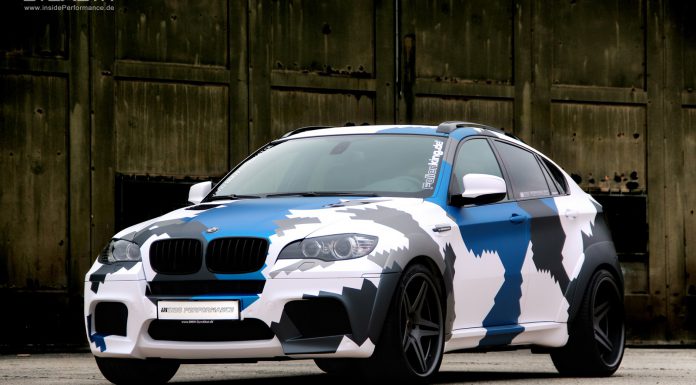 In standard specification, the insane BMW X6 M produces 550hp. Now for most people, that'd definitely be sufficiently powerful to impressive your friends with while also be more than enough to shift your whole family around in.
However, the mechanics over at Inside Performance clearly don't agree with that premise and have just released their latest creation involving the BMW X6 M which lifts horsepower to an insane Lamborghini Aventador equalling 700hp.
This additional horsepower has been achieved through some serious engine tuning, ECU modifications, a new sports catalytic converter and a selection of other upgrades which also see torque lifted to 627lb-ft. Furthermore, the car has then been outfitted with a new stainless steel flap-controlled exhaust system.
Inside Performance then set about upgrading the exterior of the BMW X6 M through the inclusion of an even more aggressive bodykit, deep concave Vorsteiner aftermarket wheels and a unique pixel-camouflage paint scheme finished in bright blue, light grey, dark grey and white. The BMW X6 M by Inside Performance also measures 4 inches wider than the standard car.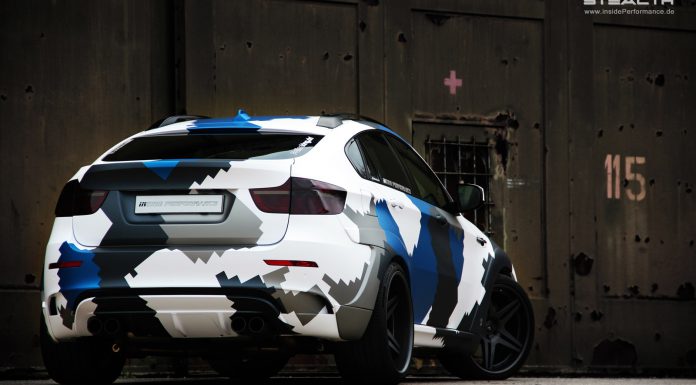 The tuning job has then ben completed with a selection of interior modifications, most notably the addition of an advanced data display system in the dashboard which measures and displays everything from boost and gas pressure, through to torque and horsepower outputs.