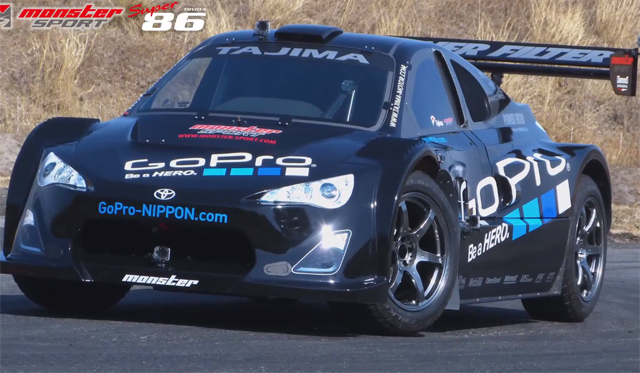 After failing to beat his 2011 Pikes Peak International Hillclimb last year in an electric vehicle and ultimately losing that record to Rhys Millen, Monster Tajima's latest hillclimber has just been released and unsurprisingly, it's based off the extremely popular Toyota GT-86.
Dubbed the Super 86, Monster Tajima will again compete in the Unlimited Class and will do battle with the 875hp Peugeot 208 T16 Pikes Peak being piloted by nine-time WRC champion Sebastien Loeb.
Surprisingly, Monster Tajima's insanely-modified Toyota GT-86 hasn't been created to produce mind-blowing amounts of horsepower like Loeb's Peugeot as it's only expected to develop 670hp from a specifically designed twin-turbo 3.0-liter V6 engine.
While 670hp is still mighty impressive, it is 200hp down on the Peugeot 208 T16 Pikes Peak meaning Tajima will obviously have to rely on his extensive Pikes Peak experience if he's to set a new world record at the famous hillclimb.
With that being said, the Super 86 will still be an extremely potent performance machine with its engine having to only propel a 1080kg car up the windy mountain!