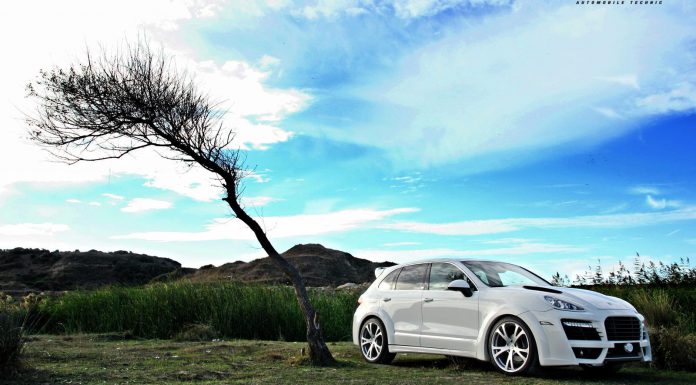 Auto tuners from Istanbul, Turkey-F355 Automotive Technic have showed us several projects done by them and featuring various key tuners in the market among them being Techart. They showed us a Techart GrandGT Porsche Panamera and their latest project is from the same tuner-a Techart Magnum based on the Porsche Cayenne.
This particular that you see in the beautiful photoset is not different from any other Techart Magnum as the tuner fitted the kit as it should be, aside from the white coat on its body, the SUV features a chin spoiler, side skirts, a roof spoiler with and a rear apron with integrated diffuser. Two dual tailpipes are connected to a sports exhaust system. The engine hood, roof spoiler, roof railing and door handles are available in different skins; carbon fiber, glossy or matt finishes, and that's Techart for you!
Over time, Techart have developed several performance packages for the Magnum, they include the TA 058/D1 that gives the Cayenne diesel an extra 40hp and 70Nm torque. For the Turbo, there is the TA 058/T1 performance kit which results in total output of 560hp and a maximum torque of 780Nm. There is also the TA 058/2 performance kit that offers 600hp and a maximum torque of more than 900Nm.
[Photo Credits: Fatih Ege]