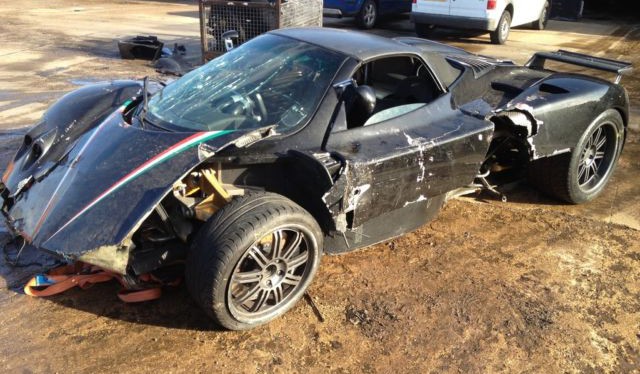 A wrecked salvage title Pagani Zonda Roadster has appeared on German classified website Mobile.de. The Italian supercar was involved in a high profile accident last year which lead to the death of the driver. The car is now offered for 117,067 euros, presumably it is only fit for salvaging parts.
This particular Pagani Zonda Roadster has a rich history. It left the factory as chassis number 76041 destined for Singapore. At that time it had yellow bodywork with a black leather interior and contrasting yellow stitching. The owner decided, after a few years of ownership, to have the car painted a soft shade of pink. The car was then purchased by a UK dealership and offered for auction at the Goodwood Festival of Speed a few years ago.
In later life it went to Joe Macari who had the car repainted to matte red before again repainting it in a black scheme with tricoloure stripes at the front. The story then takes a turn for the worse.
The car was sold to wealthy property developer William Baranos. He started using it straight away. A few days later, while driving the Zonda Roadster through Watford, UK, he lost control of the car. Baranos was ejected from the car and died as a result of not wearing a seatbelt. Upon impact, the door was ripped from the car and Baranos ejected, his body was found 10 foot from the car.
As for the damage to the car, the vendor claims that most of the damage is just panel damage. However, there is damage to the left front chassis leg and front off side suspension. The seller has collected all parts from the accident site and these are to be delivered in a separate crate. The mechanicals and the transmission in good condition and there is just one fractured external oil feed that needs a repair. No doubt a full Pagani rebuild will cost an absolute fortune.