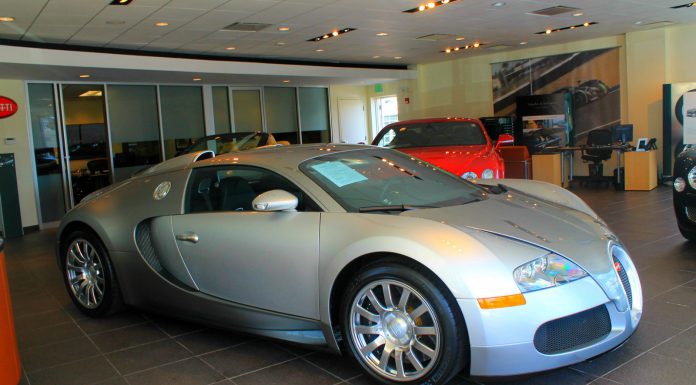 Rivitography is back again, still at the Miller Motorcars in Greenwich, Connecticut where he has found one of the very last Bugatti Veyrons to leave the factory. Amazing thing about it is that the supercar is on sale and has a very unique history since its birth in 2008. From 2008, the supercar was kept by Bugatti Spa for display throughout Europe and the Middle East until late 2011 with no miles on it, it was returned to the factory in late 2011 where it was completely refurbished with only delivery miles.
The Bugatti Veyron was then retested as new and delivered in Spring of 2012 with 600 miles and a full factory 2 year warranty. It has been owned over the past one year and serviced at Bugatti Greenwich. It's now being offered with only 1 year of warranty remaining which and with an option to upgrade it to 2 years.
Just a recap, the Bugatti Veyron features an 8 liter quad-turbocharged W16 equivalent to two V8 engines and develops 1006bhp and 1250nm of torque. A top speed of 408 km/h is achievable and a 0-100 km/h in just 2.46 seconds. Interested persons should visit here!