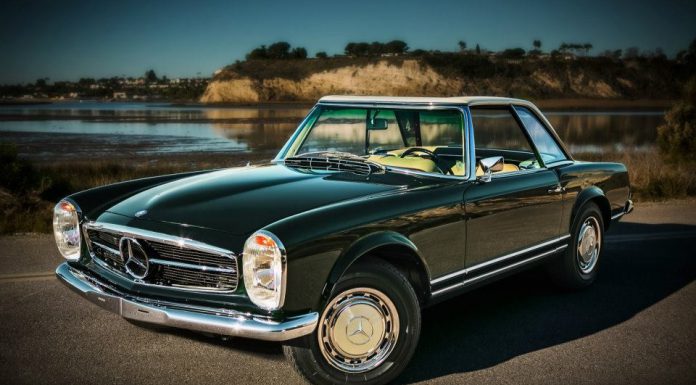 The year 2013 seems to be the year of anniversaries for many car makers, Aston Martin with the centenary celebrations, Porsche celebrating 50 years of the 911 series, Lamborghini celebrating their 50th anniversary not to mention the Ford Mustang also celebrating its 50th anniversary. Add the Mercedes-Benz W113 SL Pagoda on the list, a car we recently told you of its 50th anniversary celebrations which are taking place this year.
The photos of this particular one were taken by Royce Rumsey, it is a Mercedes-Benz 280 SL Pagoda built in 1969 and completely restored by Mercedes-Benz Classic Center USA in Irvine, California. It has been finished in a dark olive and light ivory two tone coating with a complementary leather interior. It has a 2.8 liter in-line six engine mated to a 4-speed manual transmission.
The Mercedes-Benz W113 SL succeeded the great Mercedes-Benz 300 SL gullwing, it did not only have limits to beat but succeeding such a legendary car meant a real task. As Mercedes-Benz USA explains; its designer Paul Bracq who came to its rescue when he created one of his own based on the W113 SL. He utilized straight lines that replaced curves while a low-slung roof was replaced by a high top design that eventually gave the car its nickname-the Pagoda.