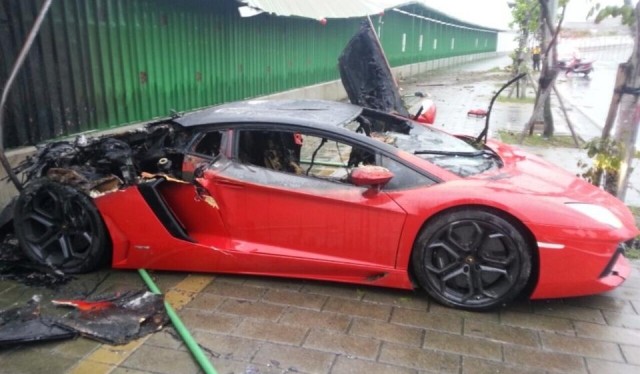 A Lamborghini Aventador accident has occured in Taiwan. The Chinese dependency saw a Lamborghini Aventador burn to the ground recently. The car is a total loss with fire wrecking the interior and the engine bay of the supercar.
The owner of the car, wealthy business man Ye Maohong, was driving with Taiwanese pornstar Peng Xuanrong in the passenger seat. Blame for the accident is being placed at the drivers feet. Apparently the Lamborghini was travelling at a high rate of speed when the driver lost control, eventually coming to a rest against a set of construction fences.
Fortunately both occupants managed to escape the blaze and, despite ending up on the pavement, nobody else was injured. Peng Xuarong (Known as suspected neck sprain and mild concussion as well as a fractured hand.
The car is worth 27 million yuan according to Taiwanese media which translates to 3,345,975 euros at todays exchange rate. A quick google search reveals that the Aventador costs 25.38 million new Taiwanese dollars which converts to 651,167 euros. Either way you look at it, that is a lot of money. According to Taiwanese media, the driver was not insured and will have to stump up the loss out of his own pocket.