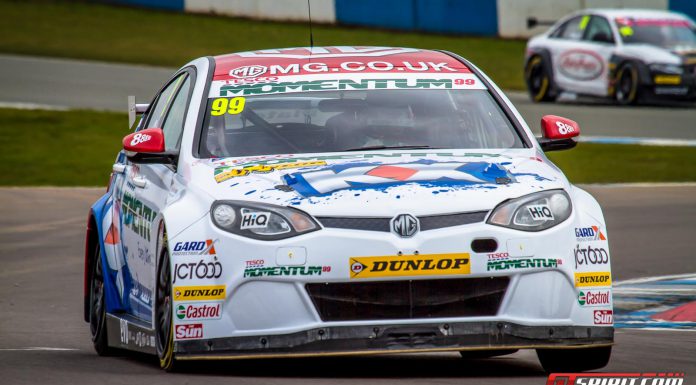 The first round of the season has seen Jason Plato take the win for both race one and two with Matt Neal taking the win in race three. All three races were with the normal drama and with the new soft tyre option being chosen for race three by the majority of riders there was a lot of expectations in place.
Race one had Plato and Jordan fighting right to the last lap when Jordan tried to make his move and ended up making contact with Plato's MG nearly knocking them both off the track. Luckily they both retained their position ahead of Rob Austin's Audi. After the race Plato said "I know it wasn't intentional, He made a mistake and we all make mistakes. I initially thought I was P3 having seen the Hondas go through. I calmed down after I realised I'd still won!"
Turkington's BMW spun off into the gravel in race two after contact from Wrathall's Toyota Avensis. He did however manage to finish race two in ninth position .Within two laps of race three Dave Newsham's Toyota collided with Rob Austin's Audi causing a safety car to exit to track while the wreckage was cleared. The Audi hit the tyre wall and caused severe damage to the car. Rob took to Facebook following fears he wouldn't be able to get the car fixed in time for the next round. "Well race 3 was awesome, for one lap. Car was fantastic, 20th to 10th in one lap. But Newsham lost it and came across in front for an unavoidable accident. Damage nowhere near as bad as it looked. Cage and subframes OK. Looking forward to Donington, we are going to be strong"
The Honda Dynamics team managed to gain a 1-2 in the third race of the day after both cars had to pit with car issues in race one. Then in race two Shedden's third place was taken away from him after his car failed the post-race ride height test. Which also resulted in him starting from the back of the grid in race three. Shedden managed to pull it out the bag and bring the Honda home in second position after chasing down the field.
Results for each race are listed below
Race One
1. Jason Plato MG KX Momentum Racing MG6 GT 24mins 08.734secs
2. Andrew Jordan Pirtek Racing Honda Civic+2.168secs
3. Rob Austin Wix Racing Audi A4 +6.130secs
4. Sam Tordoff MG KX Momentum Racing MG6 GT +7.789secs
5. Jeff Smith Pirtek Racing Honda Civic+8.245secs
6. Frank Wrathall Dynojet Toyota Avensis+13.622secs
7. Adam Morgan Ciceley Racing Toyota Avensis+16.948secs
8. Colin Turkington eBay Motors BMW 125i M-Sport +18.923secs
9. Aron Smith Airwaves Racing Ford Focus+20.253secs
10. Ollie Jackson Speedworks Toyota Avensis +22.114secs
11. Daniel Welch Welch Automotive Proton Gen-2 +23.129secs
12. Will Bratt Wix Racing Audi A4 +23.501secs
13. Jack Goff RCIB Insurance Racing Vauxhall Insignia +27.349secs
14. Tom Onslow-Cole PPCGB.com/Kraftwerk Racing Volkswagen CC +27.999secs
15. James Kaye AmDTuning.com Volkswagen Golf +29.817secs S
16. Lea Wood Wheel Heaven/Houseman Racing Vauxhall Vectra +31.666secs
17. Liam Griffin Addison Lee Motorbase Ford Focus +37.067secs
18. David Nye Welch Automotive Ford Focus +44.911secs
19. Gordon Shedden Honda Yuasa Racing Honda Civic +45.441secs
20. Mat Jackson Airwaves Racing Ford Focus +1 lap
21. Matt Neal Honda Yuasa Racing Honda Civic +1 lap
22. Warren Scott BMR Restart SEAT Leon +1 lap
Race Two
1. Jason Plato MG KX Momentum Racing MG6 GT 24mins 16.488secs
2. Andrew Jordan Pirtek Racing Honda Civic +0.989secs
3. Gordon Shedden Honda Yuasa Racing Honda Civic +1.344secs
4. Jeff Smith Pirtek Racing Honda Civic +4.958secs
5. Matt Neal Honda Yuasa Racing Honda Civic +5.073secs
6. Sam Tordoff MG KX Momentum Racing MG6 GT +5.454secs
7. Adam Morgan Ciceley Racing Toyota Avensis +5.874secs
8. Mat Jackson Airwaves Racing Ford Focus +6.640secs
9. Colin Turkington eBay Motors BMW 125i M-Sport +7.086secs
10. Dave Newsham Speedworks Toyota Avensis +7.295secs
11. Nick Foster eBay Motors BMW 125i M-Sport +7.635secs
12. Liam Griffin Addison Lee Motorbase Ford Focus +10.360secs
13. James Kaye AmDTuning.com Volkswagen Golf +11.461secs
14. James Cole RCIB Insurance Racing Vauxhall Insignia +12.776secs
15. Daniel Welch Welch Automotive Proton Gen-2 +13.765secs
16. Warren Scott BMR Restart SEAT Leon +1 lap
Race Three
1. Matt Neal Honda Yuasa Racing Honda Civic 25mins 14.772secs
2. Gordon Shedden Honda Yuasa Racing Honda Civic +0.083secs
3. Sam Tordoff MG KX Momentum Racing MG6 GT +1.216secs
4. Adam Morgan Ciceley Racing Toyota Avensis +2.171secs
5. Jason Plato MG KX Momentum Racing MG6 GT +3.651
6. Andrew Jordan Pirtek Racing Honda Civic +4.727secs
7. Jeff Smith Pirtek Racing Honda Civic +6.026secs
8. Frank Wrathall Dynojet Toyota Avensis +6.430secs
9. Colin Turkington eBay Motors BMW 125i M-Sport +9.508secs
10. Mat Jackson Airwaves Racing Ford Focus +10.133secs
11. Aron Smith Airwaves Racing Ford Focus +10.611secs
12. Daniel Welch Welch Automotive Proton Gen-2 +10.994secs
13. Nick Foster eBay Motors BMW 125i M-Sport +19.150secs
14. Will Bratt Wix Racing Audi A4 +25.176secs
15. Liam Griffin Addison Lee Motorbase Ford Focus +28.485secs
16. Tom Onslow-Cole PPCGB.com/Kraftwerk Racing Volkswagen CC +29.483secs
17. David Nye Welch Automotive Ford Focus +30.192secs
18. Joe Girling M247 Racing Chevrolet Cruze +46.370secs