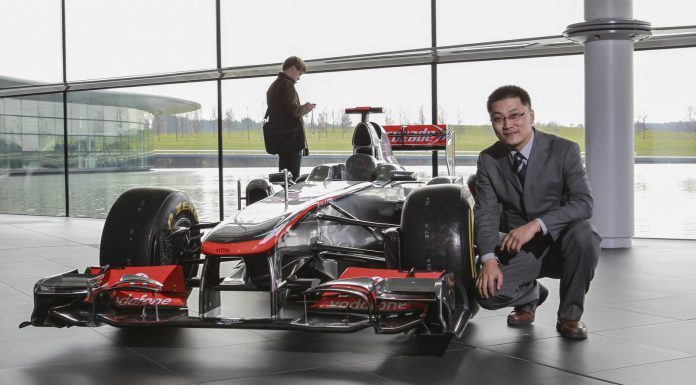 In a previous report, we told you of how AkzoNobel, a provider of high-tech coatings and artificial fibers, and paint supplier to the Vodafone McLaren Mercedes (VMM) Formula 1 team had acquired a new contract to supply advanced paint technology to McLaren Automotive, extending their supply chain to the road cars. It means that customers can now order a 12C or 12 Spider in the wonderful silvery color of McLaren's F1 car, driven by Jenson Button and Sergio Perez.
AkzoNobel's Automotive and Aerospace Coatings business (A&AC) introduced a new basecoat called the Autowave 2.0 which is a new form of waterborne basecoat that features major advances in binder and pigment technology and draws on the knowledge gained in developing the high-performance system for McLaren.
In their efforts to fulfill their promise to McLaren, AkzoNobel designed an 18 custom color system for the McLaren MP4-12C which includes the famous Volcano series of yellow, orange and red paints that have an inner glow and metallic sparkle similar to a disco ball. AkzoNobel says these coatings are waterborne with low emissions.
In regard to that partnership which was reviewed in a recent meeting, these were some of the comments from the key persons.
Ron Dennis CBE, Chairman McLaren Group said:
Since we established our partnership in Formula 1 four years ago, McLaren and AkzoNobel have developed an extremely strong relationship. We not only rely on AkzoNobel to make our F1 cars look amazing in front of millions of fans, but also to challenge the limitations of coatings technology, to reduce weight, to improve aerodynamic performance and to help us win races.

McLaren and AkzoNobel share a vision that through innovation we have the capacity to change the future. We have formed a genuine partnership that brings together the creativity, ingenuity and intelligence of two internationally recognised companies to deliver excellence.
Jim Rees, Managing Director AkzoNobel Automotive & Aerospace Coatings said:
We've already had some tremendous payoffs coming out of our partnership with McLaren, We've taken what we've learned working to push the performance boundaries for the McLaren F1 team and applied that knowledge to a number of our Sikkens products, including Autowave 2.0, our newest waterborne basecoat.