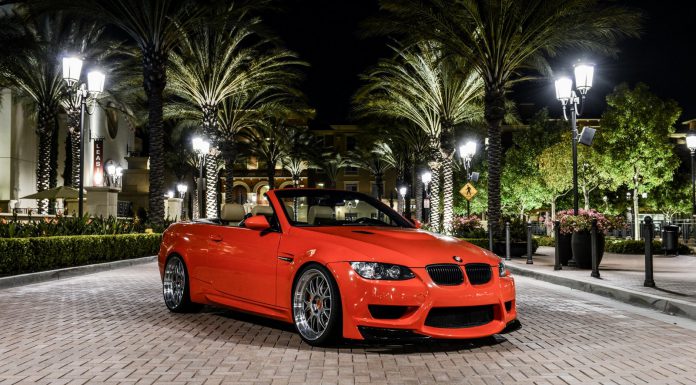 Tuner from Irvine CA- The R's Tuning showed us the Fast 6 Nissan GT-R that went famous having been associated with the upcoming 6th installation of the Fast and Furious sequel. They have now finished on a new project based on a red BMW E93 M3 that has been revealed through a photoshoot, given a new stance this BMW E93 M3 was built for a customer named Joey.
The BMW M3 will always be the pinnacle of performance in the M-line as it is the most used M-car amongst BMW enthusiasts, not to mention it rocks one of the wildest tuning scenes in its homeland and import scenes from most foreign markets. This time round without much information from the tuner, the obvious is evident, BBS wheels on the M3 and a body color that is matched by the centercaps and brake calipers.
The BMW E93 M3 uses a 4.0 liter V8 engine producing 414HP mated to a seven speed Getrag double-clutch gearbox that allows it to sprint from naught to 100km/h in 5.1s, that's stock, with The R's Tuning package; we bet the performance figures have changed. The photoshoot then emphasizes the rest of their work as shown below.