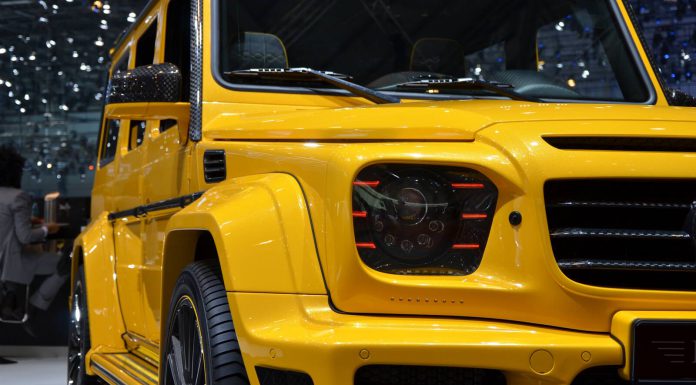 The Mansory Gronos has gone on display at the Geneva Motor Show 2013. The Mansory Gronos is an extreme version of the Mercedes-Benz G65 AMG and the G63 AMG. It gets a stunning colour scheme, pumped up bodywork and a boost in performance.
For the Mercedes-Benz G63 AMG, Mansory has completely reworked the eight-cylinder bi-turbo engine. It gets racing components; engine pistons, connecting rods, rod bearings, crankshaft, crank and cylinder head. Mansory also fit a newly designed exhaust system from the manifold right up to the double stainless steel tailpipes. The result is an 840hp beast with an electronically-limited 1000Nm of torque. Increases for the G65 AMG are in development.
The Mansory Gronos bodywork is designed from ultra-light carbon. It is designed to handle the demands of terrain, road and track. There is a new front spoiler with LED daytime running lights, styling fins in visible carbon fibre and a new headlight lining finished in carbon fibre.
The Mansory Gronos is covered in multiple layers of paint in Magic Yellow. This covers the bonnet which also displays naked carbon. The roof, mirror housings and decorative trims are also finished in pure carbon.

Thanks to wider wings and the side skirts the G model has grown by 20 mm in width. The wheel arches are filled by forged wheels. The ten twin spokes measure 23 inches, which are coated in ultra-high-performance 305/30/23 Vredestein Ultrac Vorti tyres.
Inside, both the dashboard as well as the entire area of the centre console has been completely re-designed. The in-house upholstery has a carbon design with coloured elements. The customer can spec anything they wish.