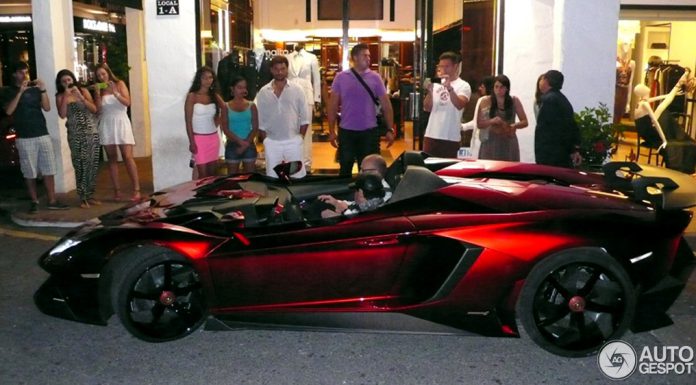 The one-off Lamborghini Aventador J Roadster was spotted by an AutoGespot user called Juanes in Marbella, Spain. The Lamborghini Aventador J was one of the highlights of the Geneva Motor Show 2012. The roofless and windowless concept car uses the same V12 engine as the standard Aventador which puts out 700 horsepower and this one-off speedster version was built in just six weeks!
The car was sold even before its official unveiling to a Lamborghini enthusiast who wired the € 2.1 million within a few minutes from his account to Sant'Agata Bolognese. He even appeared on stage at the Geneva Motor Show in a black helmet.
To ensure miniamal weight, the car has no radio or air conditioning, but why would you need air conditioning with roofless and windless car? The Aventador J uses a new type of carbon fibre construction. This carbon fiber fabric called "Carbonskin" is made of woven carbon fibers soaked with a very special epoxy resin that stabilizes the fiber structure and keeps the material soft. It is fitted to various aspects of the cockpit, including the seats.