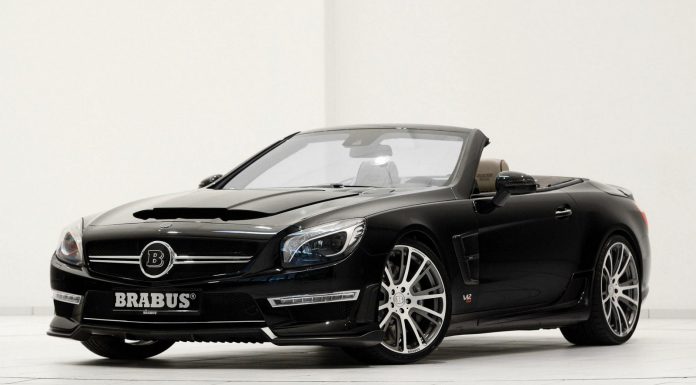 Brabus will unveil the Brabus 800 Roadster at the Geneva Motor Show 2013. Based on the Mercedes-Benz SL65 AMG, the Brabus 800 Roadster features a complete package with power, handling, styling and visual upgrades applied.
The Bottrop-based tuning company are marketing the Brabus 800 Roadster as the worlds fastest roadster. The two-seater is powered by a 12-cylinder Biturbo engine uprated to Brabus T65 RS specification. It produces 800hp and a peak torque of 1,420Nm. Performance from zero to 100km/h is now 3.7 seconds, to 100km/h takes just 9.8 seconds and top speed has been limited to 350km/h (217 mph).
The Brabus T65 RS system features custom high-performance manifolds that feature integrated turbine housings and high-performance turbochargers. The package also includes four water-to-air intercoolers, housed within the carbon-fiber hood scoop. The Brabus 800 Roadster also receives a unique stainless-steel high-performance exhaust system with free-flow metal catalysts and ceramic-coated tailpipes. A butterfly valve can be controlled via a button on the steering wheel.
Brabus have fitted a set of aluminium shift paddles for the 7-speed automatic gearbox. On the outside, Brabus carbon fibre bodywork includes a front spoiler, covers for the side air vents, front fenders and rocker panels. A new rear diffuser has also been fitted to stabilise airflow. All components have been tested in a wind tunnel to ensure that they actually produce the desired effect! They are available in matt, gloss or painted carbon fibre.
Brbaus Monoblock R "Platinum Edition" forged wheels offer a new look for the Brabus 800 Roadster. The wheel design also offers a unique look with ten double spokes arranged in two matt titanium and fully polished planes. The front axle is fitted with wheels in size 9Jx20 shod with size 255/30 ZR 20 tires. At the rear, tires in size 305/25 ZR 20 mounted on size 10.5Jx20 wheels. Tyre suppliers range through Continental, Pirelli and Yokohama.
A special Brabus control module for the ABC suspension lowers ride height by about 25 millimeters (1.0 inches). A Brabus limited-slip rear differential with a locking rate of 40 percent is also fitted.
Inside, Brabus can perform all manner of upgrades. The choice ranges from scuff plates with backlit Brabus logo's and a speedometer with 360-km/h dial (220 mph) to carbon-fiber and wood trim sets in any color imaginable and with a variety of surface finishes.
We will of course be bringing you full live galleries and details from the Geneva Motor Show 2013.