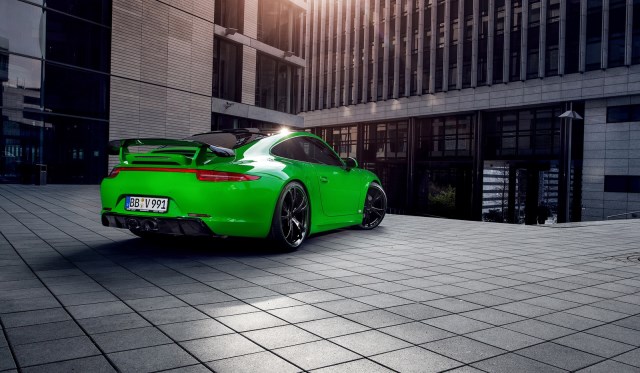 Porsche tuner TechArt has recently presented its Porsche 911 Carrera 4 tuning package. In a supplemental release, they have revealed a new set of photos of the emerald green Porsche Carrera 4S. The photos reveal every detail of the package. The Techart Porsche 911 Carrera 4S will debut at the Geneva Motor Show 2013.
The exterior reveals the TechArt front spoiler with integrated splitter, aero wings bonnet and roof in glossy black finish. Next are the TechArt headlight trims and side mirror trims, also finished in glossy black. TechArt side skirts, rear spoiler II, rear diffuser, roof spoiler and a wheel spacer kit.
Also notable is the new TechArt Exhaust System Racing with valve control and double centre tailpipes that replaces Porsche's standard exhaust system and gives the car a more aggressive and sporty look. It is controlled by the sport button fitted to the center console. TechArt will offer it alongside the sport end mufflers and sport exhaust system with valve control in combination with double flow TechArt Sport tailpipes.