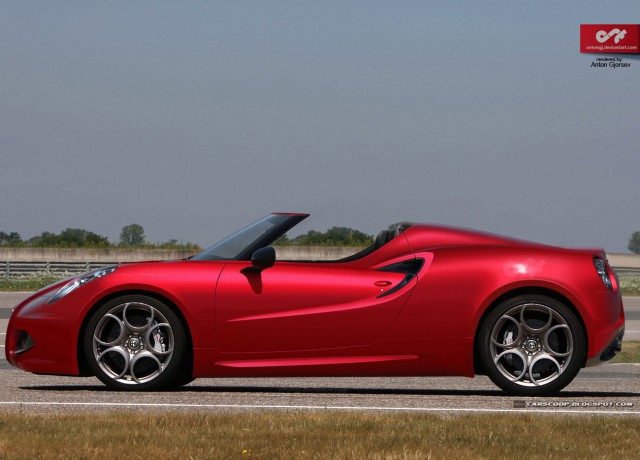 Just a few days ago we previewed many of the upcoming Alfa Romeo 4C models speculated to be released in the coming year and in order to increase anticipation further, automotive designer Anton Gjorsev recently created the following rendering of how he believes the upcoming 4C Spider will appear.
Predicting what a convertible may look like seems quite easy on paper, as they essentially identical most of the time, albeit without a roof, to their coupe brethren, but Gjorsev's design also features some prominent rear buttresses not seen on the coupe and a feature which could very likely feature on the real production Spider.
Although it's currently unclear if the Spider will have a removable hardtop or a fabric roof, the car's roof will inevitably fold swiftly behind the rear seats whenever it's released.
Thanks to new reports confirming that the 4C will deliver 237hp in base coupe and spider forms, we now know pretty much everything about the car, except when exactly it'll be released in production-ready form. Well, the latest speculation points to a release date for the coupe only at Geneva, while the Spider could be released at the Paris Motor Show later this year.
[Via Carscoop]