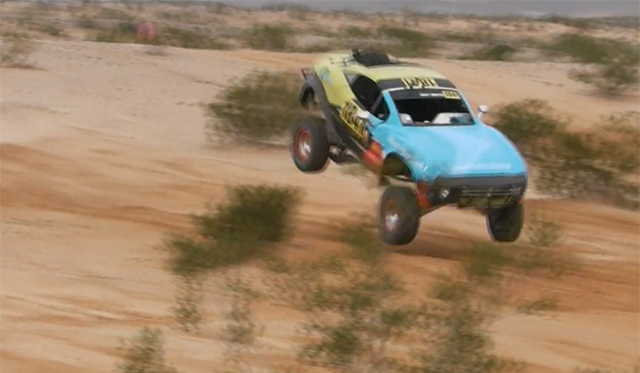 Now if this video doesn't amaze you, we don't know what will as it features one Rally Fighter at a recent Arizona desert race and one very, very brave (or is that stupid) driver.
Recently posted on Facebook by Turn 2 TV Productions, the Rally Fighter can be seen approaching the camera man from a distance who correctly identifies it as the American-produced Rally Fighter. The car then crests a hill right in front of the crowd, before bottoming out just seconds later and nose-diving into the ground making the car do a complete front-flip and landing back on its 'feet', just like you'd expect from any accomplished gymnast.
The only difference is that this is a 400-plus horsepower rally car simply not designed for such carnage. Despite this, the driver happily continues on driving much to the pleasure of the crowd despite the hood blocking the driver's view.
The filmer then comments "I'm taking this to school tomorrow", but such a video is sure to go viral in the near future so his school mates may have seen the footage before he could even tell them about it!
http://www.youtube.com/watch?v=t3waF-DTSKw