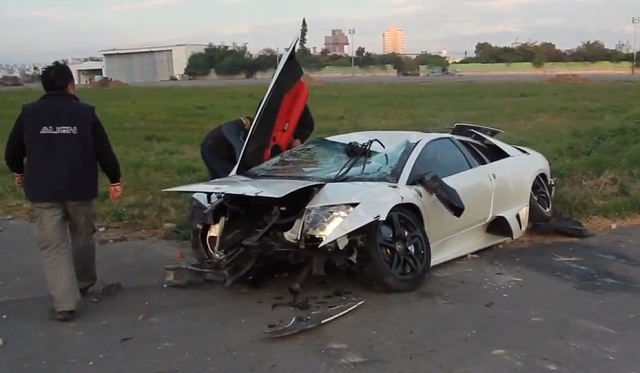 A Lamborghini Murcielago LP640 recently took part in a race with a Trex 800 remote control helicopter and two Suzuki GSX-R1000. Sadly, before filming wrapped up, the driver of the Lamborghini Murcielago lost control of the car, completely trashing it.
The promotional video had apparently been organised by Align, the manufacturer of the Trex helicopter. The video below shows several runs before cutting to a rather sad looking LP640 sitting on the edge of the grass with pieces of carbon fibre scattered across the tarmac.
Video wasn't shot of the accident, although it looks to be particularly violent one. The Lamborghini has sustained damage to all four wheels, the front bumper and the rear bumper too. More worryingly, the roof and front windscreen have also been damaged leading us to suspect the car ended up on its roof somehow.
Fortunately it looks as though everyone got out of the wreck with no human casualties. The driver simply underestimated how much runway he had left. Check out the video below.