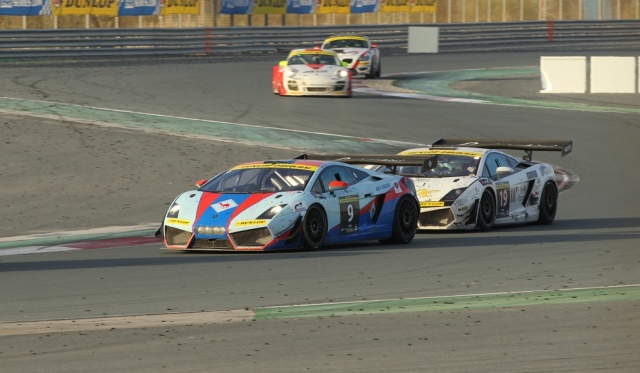 Khaled Al Mudhaf from Kuwait took part in the 24 hours endurance race at Dubai Autodrome Circuit for the very first time. He raced with the Dubai-based Gulf Racing Middle East squad in the eighth edition of the Dubai 24 hours and drove a Lamborghini Gallardo LP600 racer. The team included Fabien Giroix, Frederic Fatien and F1 star Stefan Johansson who fell ill and could not participate.
Excited Khaled shared his experience with us;
It was the greatest race I ever did and a real eye opener to drive at night with so much traffic, the closing speed of the Lamborghini was really fast compared to some other classes and this was a big challenge at night. I didn't have much practice in the car as I went into night practice the first time I drove the car.
This year's edition included 85 cars on the entry list with prestige marques and compact brands competing in various classes, all battling in day and night conditions. As for Khaled's team, they entered under the Number 9, in the A6 Pro-Am class but were moved up into the Pro class after the practice race pace was assessed.
Khaled's car suffered a gearbox failure nearing the end of the first stint and had to be towed back to the pit garage for repairs, one hour later the car was back out in the race. During Khaled's third and last two-hour stint, in the early hours of the morning with little sleep, he managed his personal best lap time, underpinning his determination behind the wheel of the Gallardo.
Khaled said;
I completed three two-hour stints before we retired the car, unfortunately I also endured three of the code 60s which meant we had to drive at 60km/h through accident zones, and that was a challenge.

I'm so proud to be the first Kuwaiti to enter this race, it's really important for us as a country to have representation in such events, we have a passionate motorsports culture and I hope many others will follow in my footsteps. This event has given me an opportunity to progress internationally and this year I hope to realize those dreams.