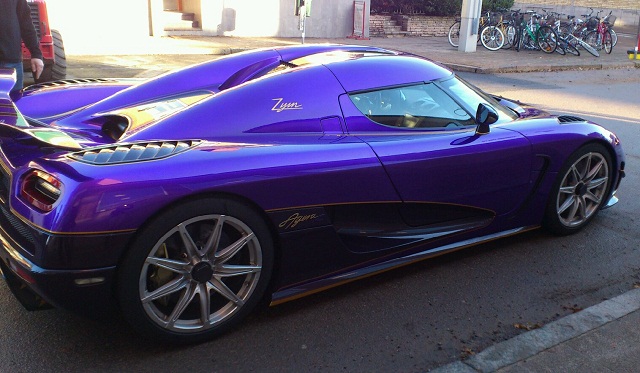 Our car spotting friend Shmee150 recently got handed a set of photos showing the finished Koenigsegg Agera Zijin. Followers of our facebook page will recognise the teaser photos we shared a while back when this car was still being tested prior to delivery.
Koenigsegg have now full completed the car and we can reveal exclusive details of the car on top of those already provided by the aforementioned source! The car was ordered by a Chinese customer through FFF, the Chinese Koenigsegg dealership that also ordered a limited run of bespoke Koenigsegg One:1.
The Koenigsegg Agera Zijin features a deep purple/blue paintjob with light blue tinged carbon fibre accents. The Zijin is instantly recognisable for its gold coachline stripes. The name is handpainted onto the rear, although it appears to say Zym, we're reliably informed that in fact it reads 'Zijin'. The car itself is an Agera R with all the 2013 updates applied.
The interior of the Agera Zijin is a pretty unique place to be. The seats are purple leather with black centers and gold metallic vent surrounds. The dash is truely bespoke with gold vent covers, a complete gold central console and a purple leather, carbon fibre and gold steering wheel.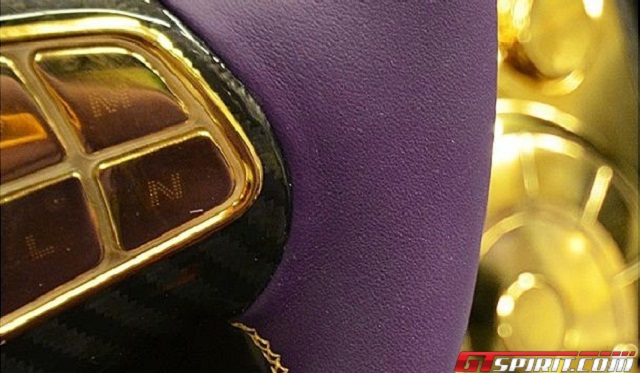 Interior stitching is a mixture of gold, purple and black threads. The section behind the seats has a grey alcantara lining with diamond stitches in gold. As you would expect, the dashboard's Agera R emblem is colour coded to the rest of the car.
Its probably the most unique colour scheme fitted to an Agera to date. Underneath, the mechanics are expected to be almost identical to the standard Agera R. It gets an in-house developed 5.0-litre twin-turbo-charged V8 engine which produces 960hp with 93 octane fuel and 1140hp with E85.