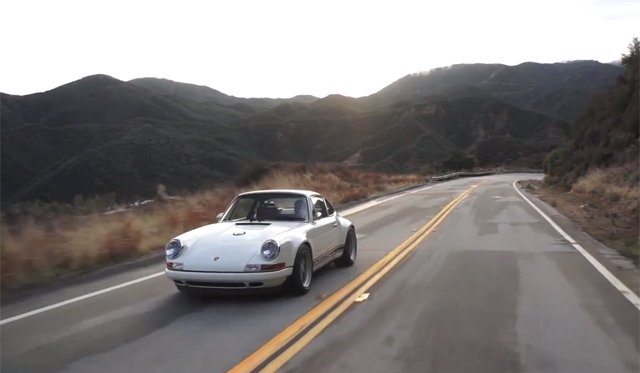 In order to start 2013 in a bang, Chris Harris recently travelled to the sunny mountains of California to test what he regards, and many others regard as one of the great Porsche 911 re-creation jobs since the car's inception in 1963.
Dubbed the Singer 911, the car is based off the classic 964 chassis and styled with various composite, wide body panels reminiscent of earlier generations. Featuring an engine specifically built by Formula One experts, Cosworth, the Singer 911 produces 350hp from the 3.0 liter six-cylinder engine and with the car weighing just 1,200kg, all this adds up to create what can only be described as a perfectly balanced sports car fast enough for track use yet comfortable and controllable enough to be driven on the road every day.
In this episode of Chris Harris on Cars, the man himself takes a visit to Singer's small production facility where he gets the lowdown on all the minor details which go into creating this $500,000 piece of art with the core Singer team members who make the car such an icon.
Following on from this, Harris takes the Singer 911 to some of California's world-renowned mountain passes as well as a deserted race track to test out the 911 in its two spiritual homes.
As far as we're concerned, only Chris Harris could create a 27-minute car review which keeps us entertained and intrigued the whole way through!