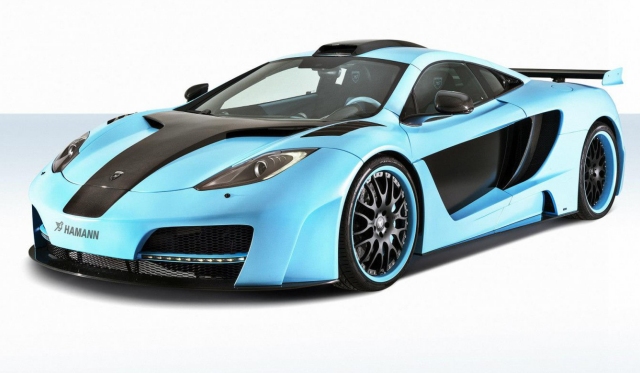 Hamann Motorsports has revealed a new memoR 12C, which is a tuning project based on the McLaren MP4-12C. The first memoR was shown at the 2012 Geneva Motor Show followed by another one covered in art inspired design. This one new is completely blue and has black accents all around.
The memoR package includes a complete remake of the McLaren 12C bodywork and the addition of functional and design aspects resembling the McLaren F1 and F1 GT3. The Germans fitted a large front splitter, upper and side wheel arch-forced ventilation, new side skirts, a roof air duct as well as an extended rear diffuser and a larger rear wing.
The new rear fender runs from the rear window to the wheel arch as a monster-wide component. The width of the tail increased and has been combined with a newly developed diffuser, side pods and a triple exhaust the rear end. The exterior design is finished with a glossy black paint job with red racing stripes all over the car and a set of 21 inch wheels.
The car's interior is offered in elegant, sporty, carbon or wood, leather or Alcantara. Hamann's own upholsterers can, on request, design whatever the customer fancies, that is from personalized foot mats to a full leather interior, all made with precision craftsmanship.
The conversion of a standard McLaren 12C Coupe into this blue "piece of art" starts at 95,000 Euro plus tax.