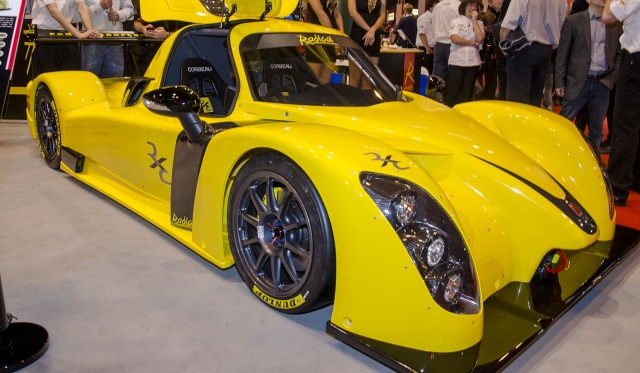 The 2014 Radical RXC Coupe has made its official debut at the Autosport International 2013 and is a more of an all-rounder, but will still be an extremely potent track-car more than capable of taking on the very best Italian supercars.
When the car goes on sale, it will tip the scales at just 900kg and will be fitted with a 3.7 liter V6 engine producing 380hp at 6750rpm and 320lb-ft of torque at 4,250rpm resulting in a power-to-weight ratio of 422hp per tonne. This engine will be mated to a seven-speed Quaife gearbox with paddle shifters driving the rear wheels and helping to propel the RXC from 0-100km/h in just 2.8 seconds.
The RXC is set to be the largest car Radical has ever created, measuring 4,300mm long, 1,960mm wide and 1,127mm high. The car will be made primarily from composite materials and built around an FIA-spec tubular spaceframe, with a massive carbon rear-wing helping to contribute to the cars capability of producing 900kg of downforce at 175mph.
Helping to lift the RXC further ahead of all previous models produced by Radical, it will also feature gullwing doors, power steering, air conditioning, a heated front windscreen and an adjustable steering wheel and pedal box.
Riding on 17 inch wheels, the road-going version will be fitted with 330mm discs up front and 310mm at the rear, with carbon-ceramic discs expected to be an option.