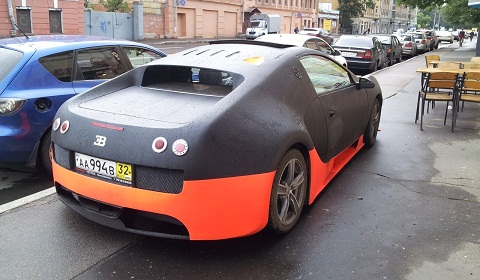 We've seen a number of Bugatti Veyron replicas in the past. Today's example comes from Russia, its the first time we've seen one based on the World Record Edition. It has record-breaking shoes to fill!
We have no details on where it was spotted, or of the basic platform used. At a guess we'd say it was an Audi TT and the number plate surround reveals that the car was originally purchased at Autohaus Vetter GmbH in Gerolzhofen, Germany. It almost certainly doesn't have 1,200hp! Definite Overkill material.
Of course, you have to compare it with the cars we've seen in the past. The best was definitely the grey and white faux-Veyron duo spotted in Atlanta. The worst, probably one of the two Honda Civic-based replicas. For more Bugatti Veyron replicas follow the embedded link.