With winter storms absolutely plowing through the east coast of the United States and Canada, many questions come to mind when you're about to step outside from your warm cocoon, into the apocalyptic sized storm brewing outside.
Typically the first question that comes into mind is: how long will it take me to get out of my parking spot, before the bone chilling wind makes me succumb to the thought of hot chocolate in your home watching movies?
Typically if you overcome the first stage, and successfully get out and start driving around, your Spidey senses start working over-time and are very careful, maintaining low speeds.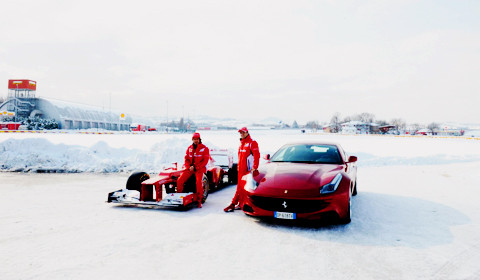 We here at GTspirit, have thought about the top five supercars to drive around in outrageous weather, if you choose to that is.
Our criteria for this top five is this: It must be an All-Wheel-Drive car. I think that's a no-brainer. Second: It must have a 0-60 time in less than four seconds on paper. and lastly: it should have enough ground clearance, and technology superior enough to get through a snow storm without looking like a bloody imbecile.
Since we weren't able to test these cars out one after the other in the snow, we will take the general opinion of veteran car journalists and compile a top five.
Number 5: 2013 Audi RS4 Avant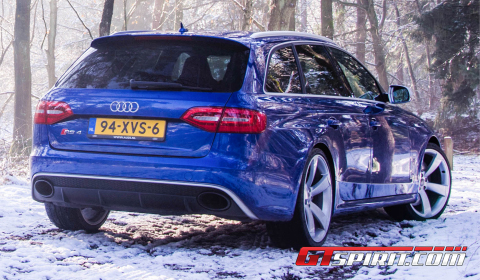 The 2013 Audi RS4 Avant is a perfect all-rounder in all weather conditions. In the dry, its 450hp V8 engine propels it to 60mph in 4.2 seconds. There have been tests where it's done it in four seconds flat, so that's why we've included it in this category. In the wet and in the snow, this car absolutely works wonders, especially with its world renowned Quattro system. Having five doors, and being capable of taking five real passengers, and being an estate, this supercar has definitely well deserved our number 5 spot.
Number 4: Nissan GT-R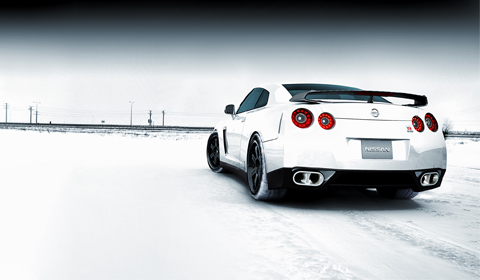 Assuming it has proper winter tires, the Nissan GT-R has come in our number four slot. With one of the most advanced, if not the most, four-wheel-drive systems on earth, this supercar will definitely go around the snow with no problems. With a 0-60mph time capable of getting around the 2.7 second mark, the 2013 Nissan GT-R very comfortably fits our supercar criteria and is able to find its way through the snow!
Number 3: Ferrari FF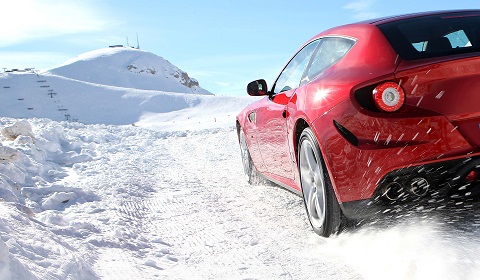 The Ferrari FF is an absolutely stunning car to look at. Add the 6.3 liter V12 and a rear-biased four-wheel drive system, and you have a car that does wonders in the snow. It is a wonderful combination between driving around safely, and having a little bit of fun.
Number 2: New Bentley Continental GT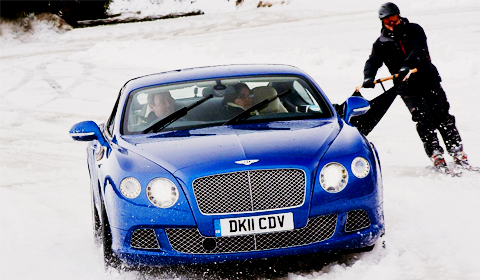 We had to give the number 2 spot to the New Bentley Continental GT. This car is absolutely brilliant in the snow according to a wide array of reviewers. The 2012 Bentley Continental GT has a mammoth under its bonnet; a 6.0 liter W12 engine with 616hp, and a whopping 590lb-ft of torque. That beast called an engine, accelerates this machine to 60mph in four seconds flat.
Number 1: Porsche 911 Turbo
The Porsche 911 Turbo on the other hand, produces a mere 530hp and 516lb-ft from its 3.8 liter flat-six turbo engine. Though it doesn't have as much power as the Bentley, it manages to go to 60mph from standstill in just 2.9 seconds. That's due to a clever four-wheel drive system, combined with launch control, and a lightning quick seven-speed dual-clutch automated manual gearbox.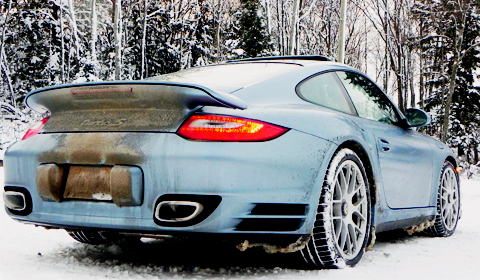 Even with that kind of speed and performance, the 2011 Porsche 911 Turbo is considered to be one of the best all rounded true blooded supercars out there. It can be driven daily, literally, throughout the entire year. It has comfort, space in the trunk, and when wanted, it can be one of the meanest machines on the roads.
It has the every day driving comforts, space and necessities that the GTR doesn't have, it will out run any RS4, it has the safety and control on snow that the Ferrari lacks due to its extremely rear biased system, and it is more of a sports car than the Continental GT.
We would love to hear any opinions or comments on our choices!