The 2014 Mercedes-Benz E 63 AMG is heading our way and more information on the new E-Class AMG family member have been released via our colleagues are Caranddriver.com. They shared that the new E63 will get more power and a 4Matic four-wheel-drive system.
The 4Matic all-wheel drive system in the updated variant of the E 63 AMG will have a torque distribution of 67/33 (rear/front). This differs from less powerful E-Class models, which are fitted with a 55/45 torque split. According to AMG's CEO Ola Källenius it is also quicker on track than the previous RWD configuration.
US customers will not have any choice. The 2014 E 63 AMG will be sold exclusively with the 4Matic setup, while for the other markets customers can opt for both versions. The AWD models will be 59kg heavier, which will make it one of the heaviest vehicles in the segment.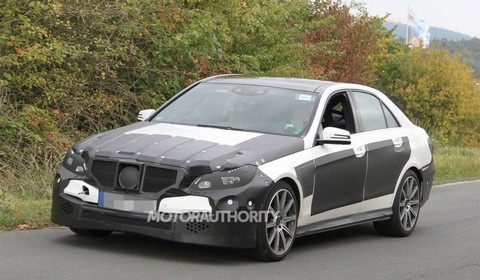 The engine is a twin-turbo 5.5 liter V8 with an increased output of 550hp (+25hp), while the torque goes to 719Nm (+20Nm). A zero to 100km/h run will be possible in less than 3.5 seconds and it will complete the quarter mile in the high 11 seconds at 201km/h.
An additional Performance package will again be available for the facelifted model. The kit will increase the performance of the AMG sedan with another 26hp and 35NM. The top speed will go from an electronically limited 250km/h to 300km/h.
The 2014 Mercedes-Benz E 63 AMG will make its official debut at the Detroit Motor Show in January. The official market release will be Spring in Europe and Summer in the US.