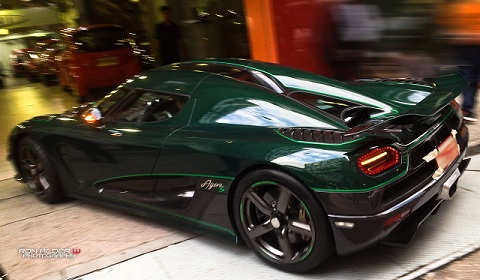 We can now share with you, the first picture we have of the new Koenigsegg Agera S! Finished in a dark green, this Koenigsegg was spotted in Hong Kong by car spotter Ron Alder W Photography and Linus Lam Photography

Details of this Koenigsegg are very limited at the moment but from the pictures we can see that it features the hollow one piece carbon wheels, and winglets that were added to the second generation Agera R. According to Koenigsegg's 2013 brochure, The Agera S has the look and all the features and functions of the Agera R, aside from its Flex biofuel capability.
Koenigsegg developed the Agera S for countries where Biofuel (E85 to E100) is not readily available. Instead the Agera S engine has been tuned to make the maximum out of premium unleaded fuel (93 octane in the US and 98 or higher octane Europe and Asia). As long as premium fuel is used the power output is rated at 1030hp and 1100nm of torque, meaning that these customers do not miss out.
Koenigsegg have previously released the Agera, Agera R, Agera X and Agera R BLT. This is the first version of the Agera S. Hopefully now that this variant of the Agera has been publicised, we'll start seeing more!