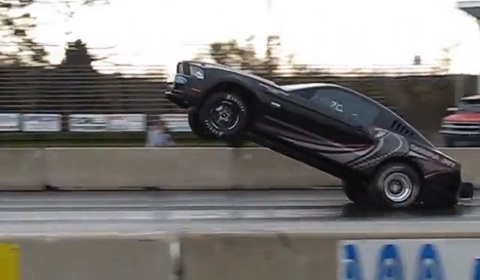 Drag racing is a time honoured American tradition. Ford have recently tried to capitalise on this by releasing a range of ready to race drag cars, the Ford Mustang Cobra Jet. The car you see in the video is one of these Mustang Cobra Jet's and as you will see, it's a fast car!
The video shows a launch, the subsequent wheelie off the line and the resulting crash. Not a pretty sight start to finish but we're sure you'll agree, the wheelie itself is very impressive! The accident happened at the Cecil County Dragway in Northeast Maryland last week for the Annual ABM Nationals.
The Ford Mustang Cobra Jet comes in two specs, with two different engines. The first, naturally aspirated model, has a 5.0 liter TiVCT engine. This includes CNC ported heads, low-drag accessory drive, and a Cobra Jet induction system. The second will has a supercharged 2.9 liter engine. This includes a CNC port matched manifold and heads that comes with a Whipple ten-rib supercharger drive system.
The car in the videos is the later of these two.
[Via Carscoop]