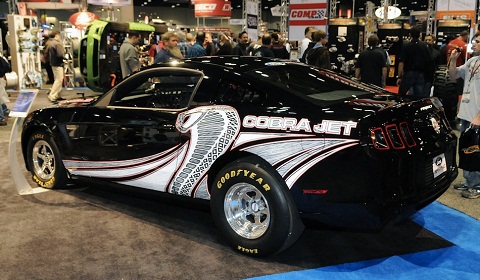 Ford Racing has unveiled the 2013 Cobra Jet Mustang at Orlando's Performance Racing Industry show. The Cobra Jet is a turn-key drag racer, built by the factory for customers. Each car is designed to compete in NHRA (National Hot Rod Association) events and will hope to build on the success of the past three seasons.
The customer racer will be built in two specs, with two different engines. The first, naturally aspirated model, will get a 5.0 liter TiVCT engine. This will include CNC ported heads, low-drag accessory drive, and a Cobra Jet induction system. The second will be a supercharged 2.9 liter engine. This will include a CNC port matched manifold and heads that comes with a Whipple ten-rib supercharger drive system.
Features common to both cars include electric power steering, lightweight body mods, an updated roll cage, revised break pedal ratio, and better rear suspension. Only fifty examples will be built in Flat Rock, Michigan by Auto Alliance International and United Auto Workers. Production starts in June 2012.
For the naturally aspirated Cobra Jet Mustang, expect to pay $ 86,000. For supercharged options, the prices start at $ 93,000. Ford will present a further options list in January 2012.