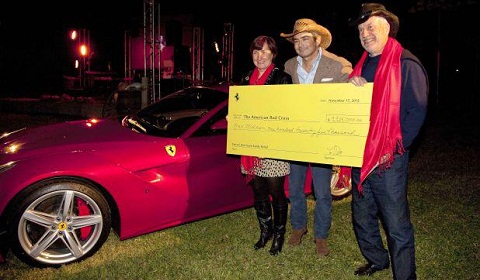 Philanthropy is high on Ferrari's agenda at the moment. Having already auctioned off a Ferrari 599XX Evo to raise money to aid those affected by the Italian earthquakes, the Italian supercar manufacturer auctioned off the first US-Spec Ferrari F12 to aid those affected by Hurricane Sandy last month.
The winning bid was a staggering $1.125 million, paid by Long-Island resident Larry Roth. This, coupled with the $345,000 in donations made by "Ferrari dealers, clients and friends," brings the total up to $1.5 million. The money is being donated directly to the Red Cross.
The new owner will take delivery of his Ferrari F12 during the second quarter of 2013, with scheduled deliveries due to start soon after.
The 2013 Ferrari F12 Berlinetta offers a 740hp output from its 6.3 liter V12 engine. The powerful engine is linked to a seven-speed dual-clutch gearbox and rear-wheel-drive setup. Acceleration from 0-100km/h is done in three seconds dead, 0-200km/h takes just 8.5 seconds. That is 0.4 seconds faster than the 700hp-strong Lamborghini Aventador. The top speed of the new Ferrari F12 Berlinetta will exceed 340km/h.