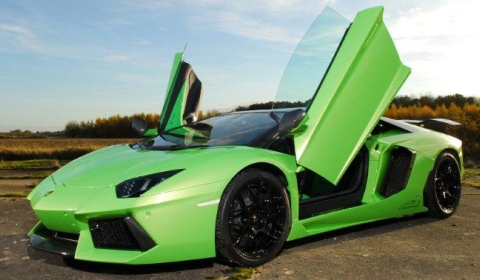 Oakley Design has just finished this Lamborghini Aventador LP760-4 for Nasser Al-Thani of the Qatar Royaly family. The Aventador received an interesting technical and cosmetic upgrade.
This car was originally orange, has been fully stripped then repainted with Pearl Green and in the first coat of laqure 18 carat gold leaf metal flakes were used. The flakes supplied to Oakley by the client were incorperated within the laqure, a following nine more coats of laqure were then applied to give the final stunning finish.
Oakley Design fitted a set of carbon fiber parts to this Aventador. They include a central front chin spoiler, increased in length to provide more down force. The Dragon Edition is fitted with parts that increase the front intake making it wider for increased airflow and cooling, the side sill intakes are also opened up for more airflow and cooling and the rear bumper vents are larger to extract more hot air. The diffuser has extended vanes for better stability at high speed and the rear spoiler has been set at 15 degrees for optimised down force to drag ratio and increased top speed. Finally, the top air box intakes are opened up to feed the engine with an increased ram air effect.
Mechanically, the famous customer decided to retain the factory four-wheel drive system. Oakley Design's upgrades have been applied to the engine management system and a titanium exhaust muffler system has been fitted which weighs only 6kgs. Finally, the tailpipes have been finished with a Refined Marques laser etched tip!
Power figures have been measured at 683hp and 524lb-ft of torque for previous Aventador LP760 conversions. Power figures for this Aventador conversion have not been released, however, we expect them to be similar!
Stay tuned for more information to be released this next week!