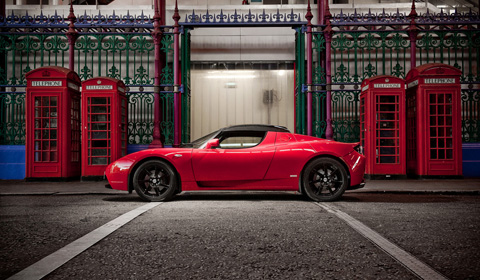 Tesla is working on a new Roadster which is scheduled to arrive in 2017. The Roadster was Tesla Motors' first production vehicle, and the first all-electric sports car in serial production for sale. But it went out of production earlier this year.
The original Roadster sprints from standstill to 100km/h (0 to 62mph) in under four seconds, and has a top speed 201km/h (125mph). But the next generation electric sports car will be even faster, making it a serious competitor for Ferrari and Porsche. The new Roadster will also take on the all-electric versions of the Mercedes SLS AMG and Audi R8.
Rumored to be called Model R, the new Roadster will share the same platform as the Model S saloon and the Model X crossover. This will benefit the weight distribution and interior space. Furthermore the distance the Model R can drive on a single charge will exceed that of the Roadster, which can travel 393 km (244 miles).
[Via Auto Express]