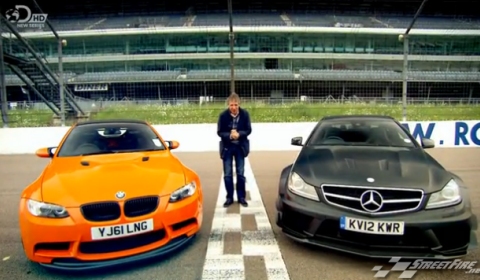 British car show Fifth Gear compared both the BMW M3 GTS versus the Mercedes-Benz C63 AMG Black Series. Both Germans sports car are compared by ex-F1 driver Mika Salo and Jason Plato. Check out episode six of season 21 below, which aired two weeks ago. Make sure you watch it til the end, there is a surprise for true petrolheads in the episode!
Just a recap. The C63 AMG Coupé Black Series is based on the Mercedes C-Coupé (C204) and designed for enthusiasts who are passionate about sports cars which are big on horsepower. Besides the spectacular and wide bodied styling the Black Series offers a 6.3 liter V8 engine producing 517hp at 6,800rpm and 620Nm at 5,000rpm. The ultimate AMG accelerates from zero to 100km/h in 4.2 seconds.
The BMW M3 GTS was produced at the BMW M GmbH manufacturing facility. In addition to a larger and more powerful 4.4 liter V8 engine up to 450hp, tuning of the seven-speed M Dual Clutch Transmission with Drivelogic and modified suspension technology, the sports car is designed for club sport use and specifically optimized with regard to aerodynamics and lightweight construction.