Today, Chevrolet confirmed that the seventh-generation Corvette will debut the evening of Sunday, Jan. 13, 2013 in Detroit. A new Crossed Flags design will be featured on the all-new, 2014 Chevrolet Corvette. The new Crossed Flags logo was unveiled at Road Atlanta.
The Crossed Flags logo has been a hallmark of the Corvette since its 1953 introduction. It has always incorporated a pair of flags, one a racing checkered flag and other featuring the Chevrolet "bowtie" emblem and a French fleur-de-lis. The design has evolved over the years, but has been featured on more than 1.5 million Corvettes built between 1953 and today.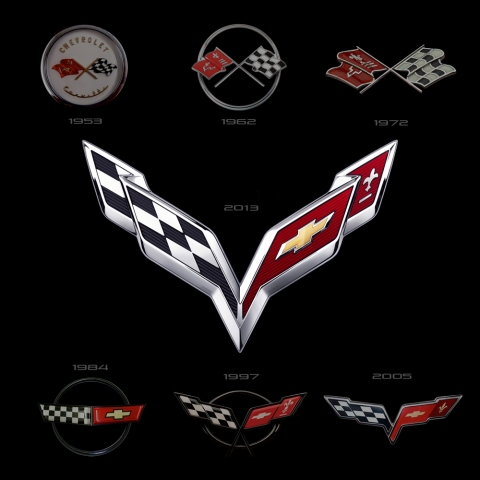 For the seventh-generation Corvette, the Crossed Flags design is a more technical, more angular, and more swept appearance. More than 100 variations were considered before the final design was selected.
The C7 is expected to feature a small-block 5.5 liter V8 producing up to 440hp. There's a possibility of direct-injection, cylinder deactivation technologies and the newest generation of the magnetorheological shock absorbers, also found on the 2013 Camaro ZL1. The new Corvette may also use a shorter wheelbase and feature a seven-speed manual and eight-speed automatic.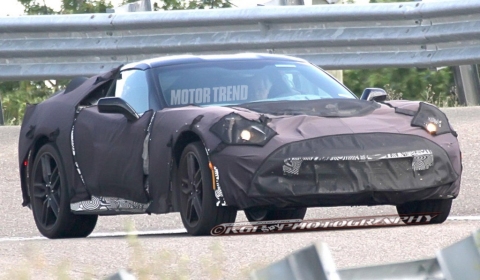 There are only two carryover parts from the C6 used in the C7 – the cabin air filter and the rear latch for the removable roof panel. Other details that surround the 2014 C7 Corvette include a carbon fiber roof, heated and cooled front seats and a dash that resembles the current Cadillac XTS with cue. There is no physical tachometer instead a graphic is present in the middle of the LCD screen. All other gauges including the speedo are physical old school real gauges.