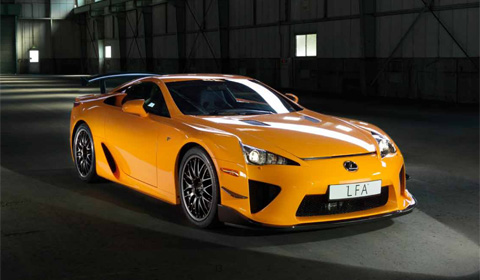 The Lexus LFA is a monument to the Japanese automotive industry. A V10, 560hp behemoth of a car that has been in and out of development for nearly a decade. Tanahashi Haruhiko, Lexus's Chief Engineer for 34 years has begun blogging about the car he spent a third of his career caressing into existence. His first blog post, entitled "The Roar of an Angel" is the first of much personal devolution into the lengths Lexus has gone to make the LFA the best it can possibly be.
Haruhiko sums up the design philosophy behind the LFA quite remarkably, "It's about creating a mixture of outright driving performance and sensuality-creating, say, the ability to corner at great speed and with total precision while immersing the driver in the pleasures of sound and feelings of security. It's an exhilarating kind of unity."
And remember, the LFA is still built by hand, one unit per day. In 2012, that is a remarkable statistic. Further installments promise to delve deeper into more technical aspects of the car, including the challenges faced in creating a car of such stratospheric performance that comes standard with all the luxuries one would expect from a Lexus. A car that's exhaust, according to Haruhiko, is only comparable to the "roar of an angel." A phrase he was disappointed to later learn was coined by famed poet Alfred Tennyson. Disappointing for sure, but "it still captures the car's spirit." High praise.
You can read the first installment for yourself, here. Feel free to take a look at the LFA Nurburgring Edition gallery below. To date, the Nurburgring Edition in the most extreme iteration of Haruhiko's legacy.