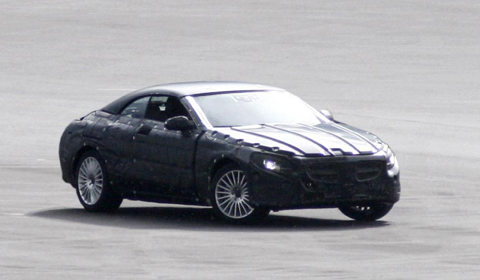 Development of the successor to the Mercedes S-Class is well underway. Several variants of the next generation flagship model are in the pipeline, including a the 2014 S-Class Cabriolet which has been spied for the first time.
The open version of Mercedes' most luxurious model appears to be inspired by the Ocean Drive, a design study which was unveiled at the 2007 Detroit Motor Show. Just like the conceptual Ocean Drive, the production version of the luxury convertible will feature a folding fabric roof. Whereas the concept featured four doors, the new S-Class convertible will have two doors only.
Regarding the engine choice of the Mercedes S-Class Cabriolet, it's likely that only the higher-output powertrains will be offered. This is comparable with the CL-Class which comes with either the V8 or the range-topping V12 engine. The S-Class Cabriolet is expected to make its public debut next year, followed by a market introduction in 2014.
Gallery: Mercedes-Benz Ocean Drive Concept