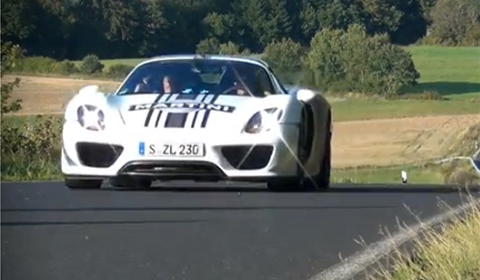 Tim Burton aka Shmee150 spotted two white Porsche 918 Spyder test mules near the Nurburgring. Both German supercars were doing test rounds and were filmed on the roads near the Green Hell. One of the drivers was Walter Rohrl, the famous Porsche and Audi racing car driver.
According to Tim's information, it seems that both Harry Metcalfe from EVO Magazine and Chris Harris from DRIVE were offered passenger rides in the 918 Spyder test mules. This explains the reason why one of the development prototype was filmed from the back of van.
The Porsche 918 Spyder will get a combustion engine and two independent electric motors – one on the front axle and one in the drive line, acting on the rear wheels. The engineering and design focus is centered on minimal fuel consumption and maximum performance. We are told that Porsche engineers have been impressed so far with the testing results.
The first is a 4.6 liter V8 originally fitted to the three-time ALMS LMP2 Championship-winning RS Spyder. This will feature 570hp on its own and the exhaust outlets will exit in the middle of the engine block to reduce engine compartment heat. This will be coupled to an 80kW lithium-ion electric motor powering the two front wheels. In total, this means 770hp, with 553 pound-feet of torque available across the rev range. There is a second electric engine at the back.
If you would like to know more about the new Porsche 918 Spyder, then please click here!