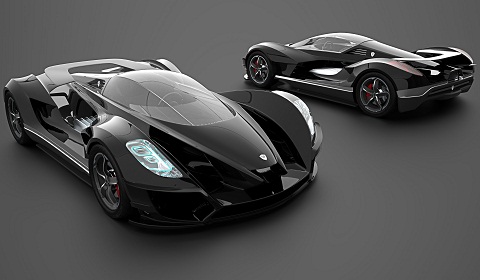 Swedish design house Gray Design AB recently announced that they will launch a new car brand named Zeus Twelve. The release comes accompanied with three renderings showing potential new models, the Magnate four-door sedan, the Gold Rush two-seater GT car and the Sigma track day car.
If you're wondering who Gray Design are, allow us to fill you in! Remember the Dartz JO-MOJO and the Dartz Nagel? Both designs were penned by Gray Design AB, along with Encizor. The company also produces yacht concepts and motorbike designs.
To start with the Zeus Twelve Gold Rush, its design resembles a Chevrolet Camaro. A six-liter V12 engine is proposed for this project. Power figures would be in the region of 510bhp from 6,500rpm with a top speed approaching 302km/h (188mph).
The Magnate features a 6.75 liter V8 producing 505bhp at 4,200rpm. Top speed for the sedan is speculated at 296km/h (184mph). Inside Zeus Twelve hope to offer ultimate levels of luxury and refinement. Outside, gullwing and suicide doors will be optional extras.
Finally, the Zeus Twelve Sigma will have an extreme track-bias. The body is built entirely from carbon fiber and the interior has been designed to incorporate lightweight materials. The windscreen extends all the way to the rear of the car and can be removed for open-top motoring. Power comes from a 2 liter Caterham Duratec Straight 4 producing 335bhp at 7,500rpm. Top speed is 290km/h (180mph).
All three cars are available as 'built-to-order designs for exclusive automotive collectors'.