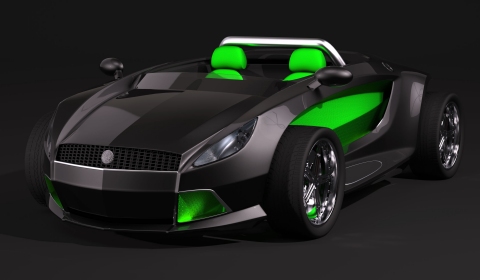 Following its initial release in October, Dartz and Gray Design are planning the release of the Jo-MOJO – an electric version of their bulletproof roadster, redesigned in their second collaboration with Eduard Gray of Gray Design.
Following the tradition of armored vehicles from Dartz, this lightly armored road car takes armored transport to a new level, according to both companies. The open-topped roadster is based on a pseudo-Kapsula technology platform of its bigger brothers. It has patented bullet wheels, a chameleon paint job and custom seating.
The Jo-MOJO has been designed for the streets of the Cote d'Azur. A hidden feature on the Jo-MOJO is the retractable cover that incorporates flexible solar cells created by former Soviet space manufacturers, Sidrabe. The cover locks the car and charges it up while it stands in the Mediterranean sun and comes with the option of adding extra batteries.
The solarpowered Jo-MOJO will be released at the Top Marques Monaco car show in 2012.