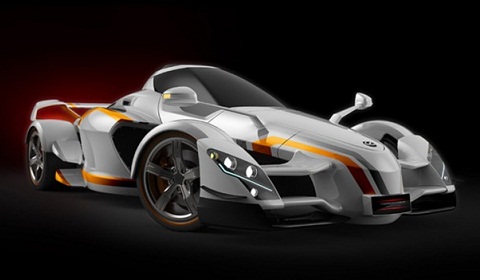 The Tramontana remains a unique supercar. Nothing else really comes close. We're now hearing that the Spanish company is working on a new version of their car, named the Tramontana XTR. The 'XTR' adds even more racing potential to the Tramontana than the 'R'. Details are thin at the moment, but we can tell you a few choice pieces of information.
The Tramontana is a two-seater, but not in a conventional way. The driver sits in front of the passenger, both are encased in a glass bubble. Behind them both sits a 5.5 liter V12 Bi-turbo engine. In the Tramontana XTR, this will produce 888hp and 980Nm of torque channeled to the rear wheels. The XTR will also be fitted with what Tramontana describe as an 'ultra-rapid competition gearbox.'

Expect chassis and aerodynamic upgrades too. The renderings reveal a new television aerial-style spoiler, a new rear diffuser and a completely new front end including new front spoilers and front headlights.