Today, at a press conference held in Mainz by Kurt Beck, the state governor for the Rhineland-Palatinate area, Nürburgring GmbH was officially announced as bankrupt. The company that runs the Nürburgring race circuit owes the Rhineland-Palatinate bank around 400 million euros for redevelopment of the circuit which occured in 2009.
The company has one last lifeline in the form of an application to the European Union's Executive Commission for an emergency loan of £10m to cover interest repayments. If this is denied, which is the expected outcome, administrators will be appointed and the company will be declared insolvent.
Nürburgring GmbH is the company that owns the lease of the circuit. The actual track is 90 percent state-owned so we're only talking about the company that run day to day business. So what does this mean for the future of racing at the historic racing. At the moment, nothing. While it will affect the future of scheduled race meetings, Touristfahrten will continue. As several sources point out, this is the biggest money spinner for the Nurburgring.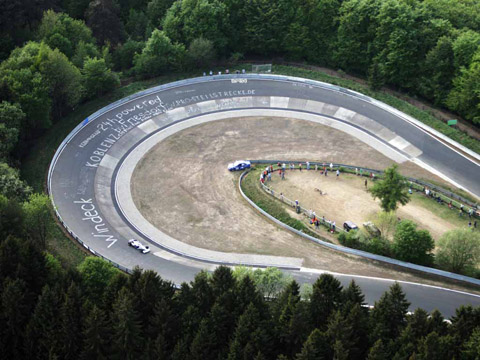 The deadline for the Nürburgring 24 Hours race meeting has been set at the end of July. A contract has not been signed between ADAC and Nürburgring officials which, at the moment, makes it likely that the race won't happen next year, although that could change.
Our friend Mike Frison has been intimately involved in the battle to save the ring. His solution to the current problems is to separate the track from the disastrous theme park and shopping complex that seems to have enveloped the Nürburgring and then to get rid of the private operators. Whether or not that will happen is anybodies guess at the moment!
For the best coverage of the situation (much better than we can manage!) follow Bridge To Gantry and Mike Frison.